On July 30, India, along with the rest of the world, marked the World Day Against Trafficking in Persons. The theme for 2023 was 'Reach Every Victim of Trafficking, Leave No One Behind'. Ironically, just four days earlier, the government stated in Parliament that, according to data compiled by the National Crime Records Bureau (NCRB), a total of 1,313,078 girls below the age of 18 and women have gone missing between 2019 and 2021.
It's not clear, though, how many of these 1.3 million missing girls and women are victims of human trafficking. The latest crime data records show a far lower number of girls and women being trafficked over the past five years. This gap in data makes it virtually impossible to map the magnitude of the problem.
On July 31, the Indian Express reported: "According to the National Crime Records Bureau (NCRB) website, 82,619 girls went missing in 2019 and 49,436 were recovered. In the same year, 3,29,504 women went missing, and 1,68,793 were recovered. In 2020, 79,233 girls and 3,44,422 women went missing. Of these, 2,24,043 women were recovered while the number of girls recovered in 2019 was not given. In 2021, 90,113 girls went missing and 58,980 were recovered; 3,75,058 women went missing and 2,02,298 were recovered."
Ajay Kumar Mishra, minister of state for home affairs, said that with law and order a state subject the responsibility of protecting women lies with state governments. "The responsibilities to maintain law and order, protection of life and property of the citizens including investigation and prosecution of crime against women rest with the respective state governments."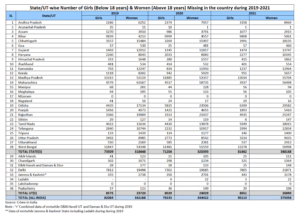 The minister added that amendments have been made to criminal laws to give more prosecuting power to police to prevent crimes against women. "The Criminal Law (Amendment) Act, 2013 was enacted for effective deterrence against sexual offences. Further, the Criminal Law (Amendment) Act, 2018 was enacted to prescribe even more stringent penal provisions including death penalty for rape of girls below the age of 12 years," said Mishra.
However, according to NCRB data, the conviction rate in human trafficking cases across the country continues to be low. Most human trafficking in India is related to forced labour and sexual exploitation. Traffickers use coercion to force people into bonded labour and compel men, women, and children to work in agriculture, brick kilns, embroidery and textile factories, rice mills, and stone quarries, among other places.
Human Trafficking Cases As Per NCRB Data
| | |
| --- | --- |
| 2017 | 2,854 |
| 2018 | 2,278 |
| 2019 | 2,260 |
| 2020 | 1,714 |
| 2021 | 2,189 |
These agents promise large advances to manipulate workers into accepting low-paying jobs. The traffickers then add exorbitant interest rates, dock salaries for items such as lodging, healthcare, or forge wage slips or fabricate the amount of debt, and thus coerce workers into continuing to work for little or no pay.
Janaki, from Tamil Nadu, was 19 years old when she was lured by a neighbour into working in the textile industry in Coimbatore. She was promised good wages and the prospect of higher studies with the help of her employers. She later found out that the neighbour was an agent who earned a commission of ₹3,000 for luring her. After joining the mill, she was forced to do backbreaking work for more than 12 hours a day.
Low wages, lack of proper protective gear at the workplace, and unhygienic hostel rooms, bathrooms, and toilets made Janaki fall ill frequently. She was not even allowed rest during her menstrual cycle. When she could not take it anymore and proposed to quit her job, the management prevented her. It was only after her parents approached READ, an NGO, for help that a rescue team came to her help.
In another incident, Piu Mondal, then 22 years old, and her friends were drugged by a roadside ice gola (akin to a popsicle) vendor. When they regained consciousness, they were on a train. Fortunately, they were rescued by a social worker from an NGO, the 24 Parganas-based Goranbose Gram Bikash Kendra, with the help of the Government Railway Police of West Bengal. Her parents did not file a police report for fear of social stigma.
Today, Mondal is president of the Indian Leadership Forum Against Trafficking (ILFAT) and actively uses the platform to raise awareness about human trafficking. ILFAT is a platform of, for, and by survivors. In November 2019, over 2,500 survivors of human trafficking came together to launch the forum. "Increasing efforts to proactively identify victims and survivors of human trafficking is a significant step to accord them justice, compensation, and adequate rehabilitation," said Moumita Biswas, an ILFAT leader.
Where justice is concerned, NCRB data shows that in 2021 police filed charge sheets in 84.7% of the 2,189 cases registered under the Anti-Human Trafficking Units (AHTU) across the country, but only 16% of the cases resulted in convictions. In comparison, in 2020, charge sheets were filed in 85.2% of the 1,402 cases registered, but only 10.6% could be secured. In 2019, this figure was 83.7% out of 1,606 cases with a conviction rate of 22%.
The data collated by the NCRB is provided by AHTUs through the State Crime Records Bureau. The data represents only those trafficking cases which have been registered by the respective AHTUs. AHTUs, legally established by state governments and partially funded by the MHA, served as the primary investigative force for human trafficking crimes.These units have been set up in districts by states and Union Territories to investigate human trafficking cases and build databases. The Centre allocated ₹100 crore from the Nirbhaya fund for setting up new AHTUs and strengthening existing units.
According to data provided by states and UTs, in 2020 the highest number of human trafficking cases was registered in Maharashtra and Telangana (184 cases each), followed by Andhra Pradesh (171). In 2021, Telangana recorded the maximum number of cases (347), followed by Maharashtra (320), and Assam (203 cases).
In the case of shelters run by the government and NGOs, according to the 2023 Trafficking in Persons Report of the US Department of State, some of these "performed well, many government-run and funded shelters remained insufficient, facing serious shortages of space, financial resources, and trained personnel, and offered inadequate services to trafficking survivors". The report continued to place India in 'Tier-2', arguing that the country does not fully meet the minimum standards for elimination of trafficking.
The report, however, also says, "The government demonstrated overall increasing efforts compared with the previous reporting period, considering the impact of the COVID-19 pandemic, if any, on its anti-trafficking capacity…."
Several measures and schemes are in place for the survivors, but the need of the hour is proper rehabilitation and psychological care. At times, members of law enforcing agencies connive with traffickers, which undermines the efforts to eliminate trafficking.
There were reports that the Covid pandemic and the subsequent lockdown to contain its spread led to economic insecurity. This forced impoverished individuals to get into commercial sex, including sex trafficking victims, and turn to brothel owners. In the process, their risk of debt bondage increased.
Some studies have claimed that many people involved in commercial sex were willing to opt out but felt unable to do so due to debt bondage and the threat of being chased by agents.