What does India need in these trying times when deep societal fissures are evident amid the lofty ambition of making it a $5 trillion economy? The answer lies in big and small interventions, and political and apolitical movements that help to bring people closer in a diverse country like India. One such effort, albeit a political one, was the Bharat Jodo Yatra, but apolitical movements that are people-led are equally important. Now, another initiative for promoting peace and harmony has been launched, which is completely apolitical in nature.
One such initiative that was launched the last week of September is the Dhai Aakhar Prem Yatra—a collective effort by the Indian People's Theatre Association (IPTA), Progressive Writers' Association (PWA), and many other like-minded civil society organisations.
The PWA and IPTA were established at the height of India's independence movement in 1936 and 1943, respectively, and made immense contributions to the cause with meaningful stories, plays, and spirited songs against the exploitative colonial rule and princely states. They carried on with their movement of sensitising people about social issues during India's formative years, rising to the occasion by giving voice to workers' rights, employment, education, women's liberation, democracy, and anti-war protests. Legendary poets and writers like Sahir Ludhianvi, Shailendra, Saadat Hasan Manto, Kaifi Azmi, Khawaja Ahmad Abbas, Balraj Sahni, Majrooh Sultanpuri and so on were part of these two cultural organisations.
From September 28, the birth anniversary of freedom fighter Bhagat Singh, various Dhai Aakhar Prem Yatra  troupes, affiliated to the two groups, of artists and activists are undertaking marches on foot in nearly all the states and Union Territories before culminating the movement in Delhi on January 30—the martyrdom day of Mahatma Gandhi.
The organisers of the initiative are using various forms of verbal communication such as songs, music, and storytelling to convey a message of peace and harmony. "The idea is to use the tana-bana (instruments) of love that is amply available in our society in the form of songs and stories to repair the fragmentation and build an atmosphere of peace. The effort of our Dhai Aakhar Prem Yatra would be to spread this theme of love from different parts of the country of that the groups will visit," says Rakesh Veda, acting president of IPTA.
Over four months, with the first march beginning from Alwar in Rajasthan on September 28, different groups will stage similar marches in the states. The organisers have decided to make the gamcha (traditional Indian towel) of handwoven khadi the Yatrasymbol.
On September 27, the Dhai Aakhar Prem Yatra group held a cultural programme at Jawahar Bhawan in Delhi which, besides presenting IPTA and folk songs of solidarity and harmony, showcased a dazzling fashion show of hand-woven khadi clothes by volunteers. The show was curated by well-known choreographer Prasad Bidapa.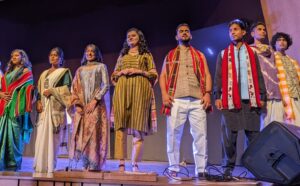 Explaining the reason behind making the humble gamcha the motif of the movement,  theatre director and current president of IPTA, Prasanna said, "The handmade gamcha is one common thing that unites the toiling Indian masses, peasants and workers across the country. It serves various purposes and supports an economy that is devoid of any electrical machine work. It gives a powerful message of sustainability and employment."
Rejecting the contention that projecting the gamcha is a utopian idea, Prasanna said, "Symbolically, we want to give a serious message to the world that it needs to strike a balance between machines and human labour. If the world wants to save humanity from the serious challenges posed by climate change and rising unemployment then it needs to contain the interference by machinery. If each one of us starts purchasing a carbon-neutral hand-made khadi gamcha every year, it can give a boost to the cottage khadi industry and help sustain lakhs of families."
The Dhai Aakhar Prem Yatra will be completely non-political. No one is allowed to support or promote any political party. "Everyone, from the prime minister to a worker, is welcome as a non-political human being in the Yatra. The only condition is to adhere to compassion and love and keep your politics aside," says Prasanna.
According to Vineet Tiwari, one of the organisers, another key aim of the Yatra is also to have an exchange of songs and stories of compassion. "At the end of the Yatra, we want to build a repository of our rich cultural heritage that different regions of our diverse land have to offer. It is a win-win journey," he said.
The areas the Yatra will travel through have been chosen by the people of that particular state on the basis of the rich cultural tradition those areas offer. Hopefully, its message of love, peace, and harmony will travel far beyond those areas.