Thaely, a footwear start-up founded by Ashay Bhave, creates zero-waste, Made in India shoes from upcycled plastic bags, plastic bottles and recycled rubber. Led by functionality and sustainability, the brand is Bhave's response to the massive, underutilised resource of plastic, which is seen as a global problem. The designer-turned-entrepreneur prefers to look at the big picture. He maps his early success in plastic bottles (over 48,000) and bags (over 40,000) used in making Thaely shoes. He intends to measure and report his forthcoming performance in terms of five sustainable development goals (SDGs 8, 9, 12, 13, 14). With a circular economy and job creation part of his vision, Bhave shares his ideas with Tatsat Chronicle in a freewheeling conversation.
Tell us about Thaely's origin and inspiration.
I started working on Thaely when I was 20. Initially, it was a design project. The plan was to develop an ethically produced sneaker, using components recycled from waste materials. The aim of the exercise was to find a solution to the problem of the 100 billion plastic bags used each year globally.
The main idea behind Thaely was to find a way to recycle plastic bags because I learned that nobody really recycles these bags. They do not really have any monetary value and are also not collected as such. There are fashion brands that have been using rPet — a material made from plastic bottles — but plastic bags have gotten no attention even though they make up to 14% of all ocean plastic waste. I wanted to find a solution to this. I was working on a few different techniques and the one that I developed was a chemical-free process to recycle plastic bags into a leather-like fabric. We call this fabric ThaelyTex. It is basically a leather replacement. Initially, we had it in white. Now, we have it in black also.
The fabric was developed and perfected over two years, from 2017 to 2018. To test and prove the fabric, a rough prototype was created with the help of a local shoe repair store in Mumbai with existing patterns, last and soles. This was a test to prove that the fabric could be used like traditional leather with existing manufacturing techniques. The prototype worked and looked like a traditional leather sneaker.
I presented this shoe, with a business plan, at Amity University Dubai's 2019 Eureka start-up pitch competition and came first in the competition. One of the judges at the contest was Matteo Boffa, a Swiss social entrepreneur living in Dubai, who has invested a lot in many environmental projects. He was interested in my idea and came on board as my first investor and mentor. From then on, and in a matter of one week, we started working on a production-ready, refined prototype for both the fabric and the shoe sample.
That was in 2019. In 2020, we raised a lot more investment and set up a company in India. Then, there was a pretty long delay due to Covid-19. Eventually, in the summer of 2021, we started production. By July, we launched the brand Thaely officially.
Can you take us through the production process of a pair of sneakers?
A Thaely pair of shoes uses ThaelyTex, rPET and recycled rubber. The production process is safe and cost-effective, does not need any additional chemicals or release any toxic chemicals as a by-product, and tries to have the lowest emissions possible. Each sneaker uses ThaelyTex—a fabric made using one upcycled waste plastic bag—made in collaboration with TrioTap Technologies in Gurugram, India. The waste plastic bags are collected from housing complexes, offices, and stores in and around Gurugram. The collected plastic bags are segregated, sanitised and processed into ThaelyTex at the TrioTap Technologies' Gurugram waste management unit. All waste management professionals at TrioTap Technologies are paid fair wages, have safe working conditions and are provided housing facilities.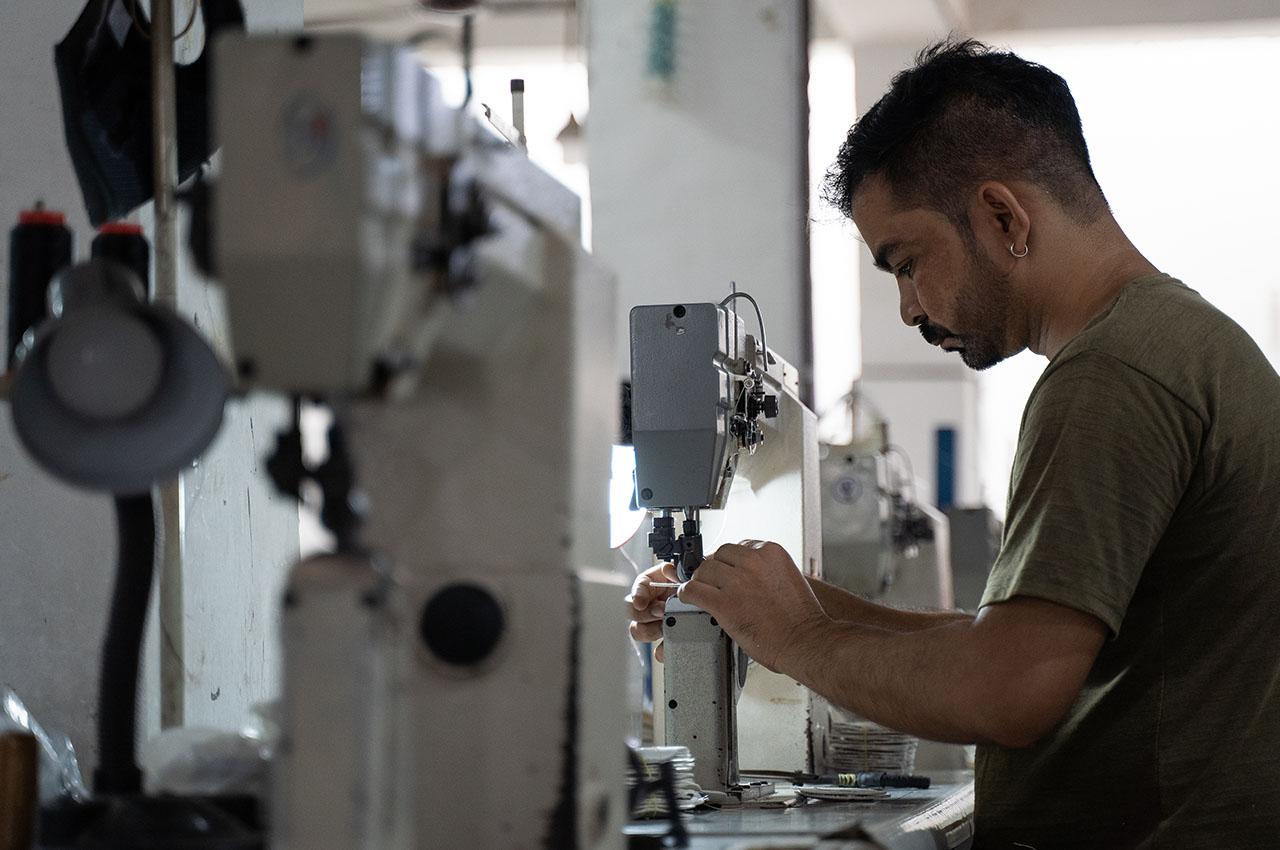 The main idea behind Thaely was to find a way to recycle plastic bags because I learned that nobody really recycles these bags. They do not really have any monetary value
We outsource pretty much all parts of our business. In addition to the waste management plant in Gurugram, we are working with a shoe manufacturer in Jalandhar, Punjab, who takes the fabric and makes the shoes for us. We have a dedicated assembly line for our shoes where 30 to 40 people work full-time. This number will go up as we plan to have another line, keeping in mind the demand we are seeing now. We have a warehouse in Delhi where all the shipping and inventory management is done. We mostly do marketing and website management in-house.
Currently, our biggest market is Europe. We already have a distribution deal for Australia and are finalising a distribution deal for Europe. We will continue to expand to other regions.
We make about 150 to 200 sneakers a day and have received about 3,000 to 3,500 orders, with some customers ordering two to three pairs of shoes. A pair lasts as long as any other shoe, which is two to three years depending on how one uses it. It is comfortable and surprisingly breathable. Today, we have got a diverse range of customers across the world, with most based in Europe and America.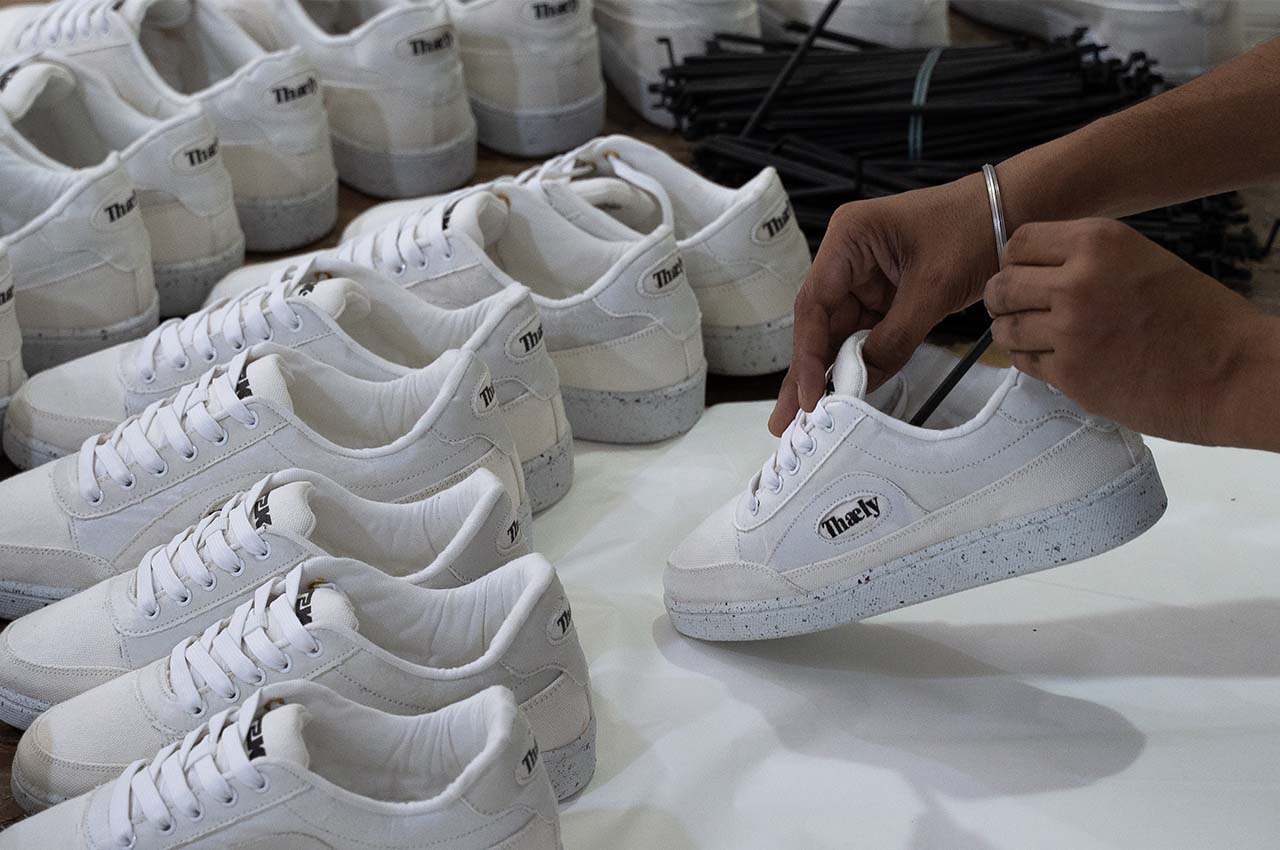 What challenges have you faced so far?
One major problem that we faced initially was Covid-19, as it affected supply chains across the world. 'Ease of Doing Business' was another challenge, as India still has to improve a lot in this area. There is a lot of paperwork and compliances that you have to face. At Thaely, we have now got a good team of accountants, lawyers and advisers who advise us on the right way to do business, as there are a lot of loopholes. We are still a young company and are outsourcing most of our production to other companies. This also brings about a different set of challenges. We are working in two-three states. We are registered in Mumbai. Most of our orders are exports and we also import certain raw materials. So, the process is very bureaucratic and a little hard to work with.
Last year, we had revenue of more than $100,000 in less than six months. I would call this amount a pilot. We are very conservative when it comes to marketing spending
What are your plans for the brand?
I believe we are always going to outsource production, as it makes a lot more sense. What we can do is have multiple production facilities to meet the demand. This is the case with most shoe brands. For most shoe retailers, manufacturing yourself does not really work out. Though, what we will do for sure is to get the manufacturing of ThaelyTex done in-house.
Last year, we had revenue of more than $100,000 in less than six months. I would call this amount a pilot. We are very conservative when it comes to our marketing spending. We also had limited capital and a limited number of units produced. This year, given the fact that we are going to get a lot more attention and have distributor orders, I expect a big jump. We can easily reach $1.5 million to $2 million in revenue.
In terms of markets, the biggest untapped market for us is India. Our shoe is priced at ₹7,000, which is in the range of $90 to $100, a price point that works very well outside. Abroad, Thaely is cheaper than most sustainable footwear brands. So, we should be coming out with a cheaper product for India and other parts of Asia. It is something that is much more accessible, and we have figured out ways to do it without cutting corners because we would rather be sustainable than be cheap.
This year, we are planning on increasing everything by 10 times. The number of sneakers we produce is going to increase by 10 times and it is the same for the plastic bags we use. We used 50,000 plastic bags last year. This year, it will be 500,000 bags or more. We want to recycle as much plastic as possible and as efficiently as possible.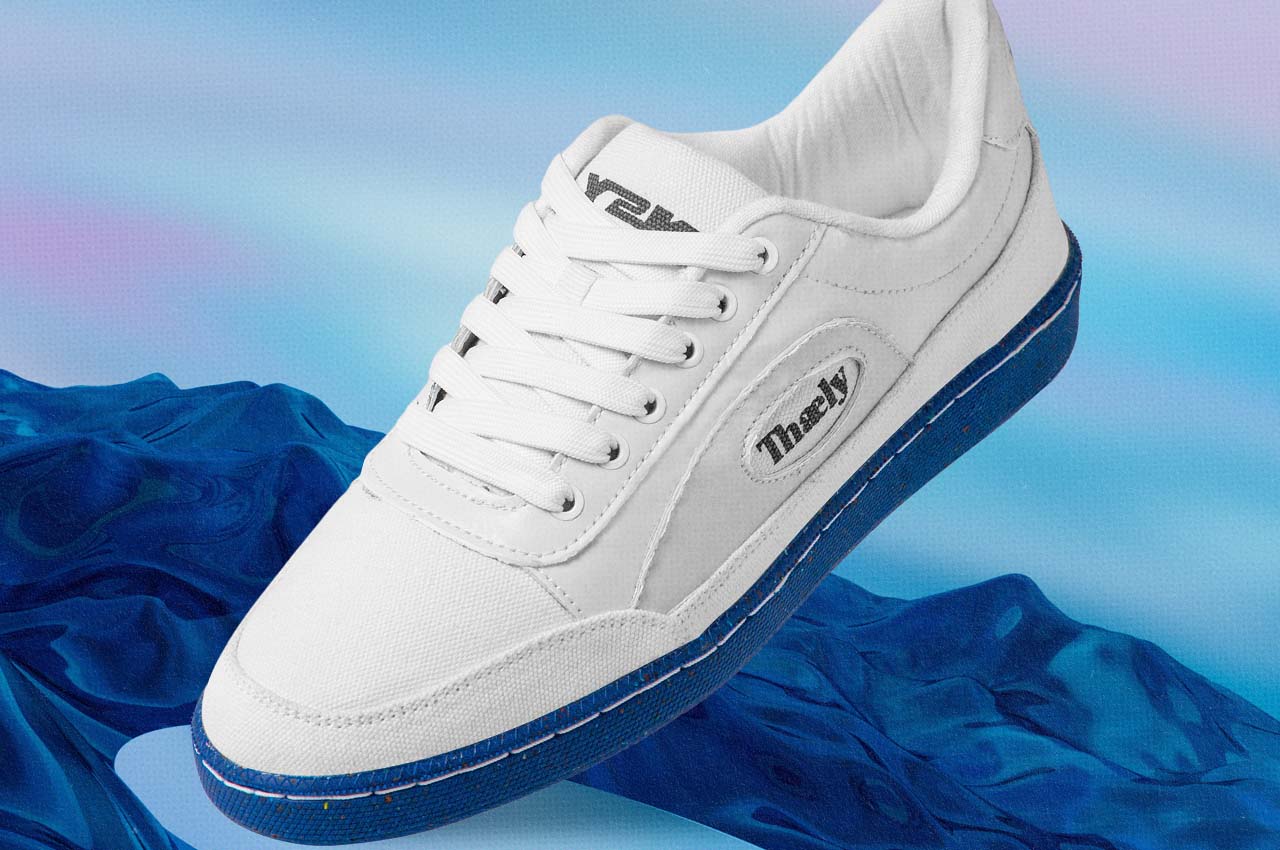 Plastic waste is a huge challenge for the world. How much responsibility devolves on all of us?
So far, we have recycled about 50,000 plastic bags. While it is a considerable quantity when you realise that each person uses about 300 plastic bags each year you realise that it is a small dent. We are, of course, ramping up our production and going to make a slightly bigger dent, but the problem gets way too big each year. We use one trillion plastic bags globally. It is almost like a number that is hard to imagine and put into perspective. There are countries that are banning single-use plastic, but we still have not found a good alternative to plastic. There is nothing that is as light, affordable and durable as plastic. If not plastic bags, the packaging is still going to use plastic. The main component that we are recycling is LDPE, which is not used only in plastic bags but in pretty much any packaging. So banning plastic will not help, but recycling will. You need bigger organisations and governments to come forth and participate in it.
This year, we are planning on increasing everything by 10 times. The number of sneakers we produce is going to increase by 10 times and it is the same for the plastic bags
What more should we do to deliver regarding SDG 12, which deals with Responsible Consumption and Production?
Sustainable products need to be made more accessible. Right now, because it is a niche market and a new way of doing business, customers may be given some incentives and lower taxes may be applied on sustainable products. It will not only make it easier for consumers but will also encourage companies and businesses to make more sustainable products. So, a lower GST or lower import cost on these products may be instituted by the government.
Thaely
Any dialogue or initiative that you plan with the government and industry to spread the message of the Thaely brand?
The waste management company that we are working with has been able to showcase our product to the government and show what happens when we collect waste. Earlier, all the waste the company was collecting was going straight to the landfill. It was the cheapest option (to handle waste), and that's why the company kept getting the contract. However, that may be the cheapest option but it's not the best way to go about things. Similarly, we should not just look at the government, as this is the cheapest possible option. We also need to consider what is better for the environment. If you consider that one landfill on the outskirts of Delhi that you see and say that plastic is a mountain of a problem, it is evident that something needs to be done (by all of us).
We do not have to demonise plastic. It is something that's supposed to be recycled. It is designed to be recycled. It is just that we are not doing it. We find it cheaper to make more plastic, as it benefits a lot of people. We just need to look at things differently.
What is your understanding of a circular economy?
We have always been interested in circular design and a circular economy. It has always been a part of our business plan. Apart from the part where we are recycling plastic and rubber to make our shoes, we are starting our trade-in model that allows customers to exchange their old one-off Thaely sneakers, so that we can responsibly recycle them or refurbish and donate pairs that are not very worn out.
The aim is that we do not want this plastic or the shoes that we make to end up in the landfill again. This is something that we are trying out, and we will try out in India to begin with. We are partnering with India's biggest shoe laundry. With this partnership, we are going to be able to deconstruct the shoe, if it's very worn out. You have to deconstruct the shoe before you can recycle it. There is recycled rubber and there is recycled plastic, which you have to segregate, and apart from that also refurbish. The best thing that you can do is extend the lifecycle of a product.
What are your expectations from India's entrepreneurial ecosystem to support ventures like yours?
On policy, I do know that there is a certain CSR spend that companies have to do in India. I also know that in the European Union, companies have to meet certain parameters when it comes to carbon emissions and that is why they offset. Maybe something like that can happen (in India), where companies that make textile, for example, to a certain percentage of their output, make sustainable or organic fabric.
I would rather not have policies. I would hope that it is something that consumers demand from companies themselves. Nobody likes more government restrictions
I would rather not have policies. I would hope that it is something that consumers demand from companies themselves. Nobody likes more government restrictions, etc., that are difficult to work with. I hope people are more aware and able to pressure companies to change. The change may not always have to come from the government or maybe it can come from the government but does not have to be a policy. Maybe the change can just come through the general public, who can drive change through buying choices. You know that sustainable products are not the most affordable, and so the prices must come down. For example, the recycled plastic water bottle fabric that we use, rPet, is very expensive. It is probably three or four times more expensive than regular nylon or canvas, but if there are two or three companies that are making it in India and if there is more demand for the fabric obviously we will see more competitive prices, helping the price of the final product to come down. Now that's something we need.
What is your vision for Thaely?
My vision would be to make Thaely like a household name. If you think of sustainable shoes, you should think of Thaely. I want it to have aspirational value. I want people to say that their next shoe is going to be Thaely or 'I want Thaely for my birthday', etc., a product that people want to aspire to have. Within the next few years, I want to see Thaely not just being known for shoes but also for the fabric that we make. That's why we plan to work with other brands, so that, when people see our fabric, they immediately associate it with us and our story.