More than five months into the Manipur ethnic violence, which shows no signs of abating, thousands of displaced people are still languishing in relief camps. In Churachandpur, the tribal hill district which has been the hotbed of the ongoing turmoil, the maximum number of internally displaced people (IDP) are living in dilapidated relief camps that lack basic amenities. Most of the relief camps are reported to be in a similar condition.
For this reason, these relief camps in Manipur have become a major healthcare concern with real chances of an epidemic outbreak. Since May 3, when the first incidents of violence took place, relief camps have come up in Kangpokpi, Tengnoupal and Chandel districts.
According to media reports in the last week of September, a total of 37 people, including minors, have died in relief camps in Churachandpur. MK Henry, a journalist based in Lamka, told me that by now the toll has gone up to 40 (and counting). He says that the underlying cause is various ailments among the old and young and the unavailability of medical care facilities besides the absence of basic amenities in these relief camps.
According to Henry, who has been reporting extensively about the conditions in the relief camps, "they were set up as an emergency measure to accommodate the displaced people in any available empty infrastructure like school or community centres". One of the key concerns is sanitation and personal hygiene. People living in cramped conditions in these camps also increases the chances of contagious diseases. "Lack of medical facilities apart, the relief camps are unhygienic due to the unavailability of water—not only for drinking but also for sanitation," says Henry.
In the camps, personal hygiene (especially for women) cannot be maintained. The rooms or halls, too, are not cleaned. "People have told me there is no water for bathing, washing, or cleaning toilets." The critically ill are taken to the district hospital, but it is usually too late.
There are about 300 relief camps that have come up in Manipur, of which more than 100 are in Churachandpur district alone. But in the absence of authentic data from the government, the exact number of displaced people remains an estimate at best, based on anecdotal information. According to some reports, more than 70,000 people have been displaced, besides the loss of lives and destruction of property. It has been reported that of all the displaced people due to the ethnic violence, around 80% belong to the Kuki and Zo communities.
Also Read: Manipur In Flames—A Grim Tragedy Is Unfolding In The Border State 
The relief camps in the tribal hill districts of Kangpokpi, Tengnoupal, and Churachandpur are supported by civil society, organisations affiliated to local churches, and philanthropic outfits. There is almost no intervention from the state government, except for some supply of dry rations.
According to Marybeth Sanate, secretary of the Rural Women Upliftment Society (RWUS) in Churachandpur, who has been working extensively in relief camps, the main reasons for the deaths in these camps are lack of medical treatment and scarcity of medicines. Some common diseases and illnesses in the camps are fever, pneumonia, measles, cancer, kidney failure, heart stroke and the like and there have been reports of malaria and dengue since August. "There are also cases of measles outbreaks and viral conjunctivitis among children and adults," says Sanate.
Even though medical facilities could be arranged, these displaced people do not have the financial resources. The problem of finance is not limited to the displaced but holds true for a majority of the tribal population in the hill districts due to disruption of livelihoods. "Some patients need dialysis at least three times a week, which costs at least ₹10,000," says Sanate. "Patients from BPL families are not able to afford medical services."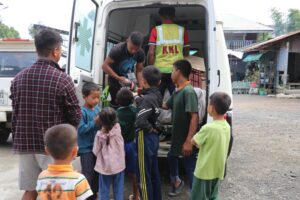 With no access to the state capital, Imphal, those who are financially better off go to Mizoram, Assam, and other states for treatment. Similarly, cancer patients are forced to seek treatment outside the state since the only place providing cancer care in Manipur is out of bounds from the people from the tribal regions  . Medicines purchased or supplied by donors are routed through Mizoram, which is about 300 km from Lamka town in Churachandpur district. And when it rains, the road connecting the hill districts to Aizawl becomes unusable, leaving people stranded for days.
In Manipur, all super specialty hospitals, either government-run or private, are situated in Imphal. With the violence cutting off connectivity, people from the Kuki-Zo tribal hill districts can neither go to Imphal nor can the doctors posted in those districts come to hospitals in the region. Further, no medical supply can reach the hill areas as transport and communication links between the valley and the hills remain suspended.
Churachandpur district hospital—the only hospital to cater to more than two lakh people—is now taking on the additional burden of patients who have been displaced, besides treating severe injuries due to the ongoing clashes including gunshot wounds.
The district hospital, which is comparatively better than its counterparts in other tribal hill districts, has a few specialist doctors available such as physicians, child specialists, gynaecologists, orthopaedists, and ENT specialists. But there are no specialists in other departments, such as neurology, cardiology, nephrology, and the like.
"The situation of displaced people and the poor families is even worse in Kangpokpi and Tengnoupal districts, which are severely affected," says Sanate. These districts, which have also been cut off, do not even have full-fledged hospitals.
In the last week of August, Chief Minister N. Biren Singh inaugurated and handed over the first phase of temporary shelter homes for 400 families, displaced due to the violence. Singh stated that the temporary shelter homes are being constructed at a total cost of around ₹149 crore, of which ₹101 crore had already been disbursed from the Prime Minister's Office. The CM says that the prefabricated houses are being constructed to temporarily rehabilitate the displaced people of Manipur. He said that permanent houses would also be constructed in their original homes. Meanwhile, the state government claims that it has undertaken a survey to assess the damage to property.
While the chief minister made a show of handing over temporary shelter homes in Imphal, there are no reports of such initiatives in the tribal hill districts of Churachandpur, Kangpokpi, and Tengnoupal— all dominated by the Kuki-Zo tribal community.
Activists or representatives of organisations of the Kuki-Zo communities are not keen on accepting temporary shelters from the chief minister. They insist that they will continue with their resistance and a non-cooperation movement for fulfilling their demand for a separate administration for the hill districts.