India's growing urban population is heading for a severe drinking water crisis by 2050, according to a UN report released in New York in March this year. This alarming projection was revealed in the United Nations World Water Development Report (UNWWDR) for 2023, made public at the three-day UN Water Conference at the UN headquarters from March 22 to 24.
The conference began on a sombre note with UN Secretary General Antonio Guterres declaring that water was "in deep trouble". He called for speeding up action to deal with the crisis. Not mincing words, he drew a grim picture. "We are draining humanity's life-blood through vampiric over-consumption and unsustainable use, and evaporating it by global warming. We have broken the water cycle, destroyed ecosystems and contaminated groundwater."
That he was not exaggerating was clear from the UNWWDR's opening section on the "State of the World's Freshwater Resources" which cited some worrying figures about the global urban population's access to water. As of 2016 there were 933 million people among the world's urban population who dealt with water scarcity. This number is expected to rise to between 1.7 to 2.4 billion by 2050. India will be the most severely affected as it will be home to a quarter of this population.
These figures were quoted by the report from a scientific research paper that appeared in Nature Communications in 2021.According to the World Bank, water scarcity combined with climate change could cost some regions up to 6% of gross domestic product (GDP) and lead to migrations and even conflict.
These are not just some headline-grabbing projections.The world is rapidly urbanising. The urban population has increased from 800 million in 1950 to 4.4 billion in 2020. This means that more than half the world's population of approximately 8 billion lives in urban areas and is projected to rise to 6.7 billion by 2050. This, combined with socio-economic development, will increase urban and industrial water demand by 50% to 80% over the next three decades. "In parallel, climate change will affect the spatial distribution and timing of water availability," says the report. In other words, urban water scarcity is likely to become much more serious. Maybe the beginnings are here already as evident in a murderous attack over water recently in a water-scarce neighbourhood of Mumbai.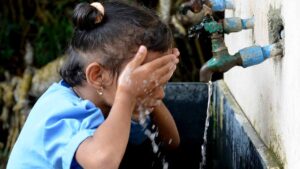 Projections about the size of urban populations that will face water scarcity, however, are considerably higher in the research article cited in the UN report than previous projections. This, explained the authors of the Nature Communications article, is because the earlier studies were based on the populations of only large cities. The current research, on the other hand, has been based on all urban dwellers and offers what the authors say is a comprehensive assessment of global urban water scarcity.
Having emerged as the world's most populous country, it is not surprising to find that India's share in the urban population growth will be severely affected by the impending water crisis. Though India is home to a sixth of the world's population, it has only 4% of its water resources. The Nature Communications research paper, published in August 2021, found that currently as many as 222 million people live in urban India alone. China is next with 159 million.
The study also determined that Delhi and Bengaluru were among the six megacities (with population more than 10 million) worldwide that faced perennial water scarcity. The others were Beijing, Los Angeles, Mexico City, Lahore and Moscow. By 2050 Mumbai is projected to be added to this list.
The study, whose lead author is Chunyang He, was jointly carried out by scientists from the United States, China and Australia. It further said that the scarcity by 2050 would show a 121% increase over 2016. A major part of this (87%) is likely to be the result of population increase, urbanisation and development while 4.6% will be a consequence of climate change. The study projected that as many as 550 million people living in urban India will face water scarcity by 2050. India, however, would hardly be the only country facing the water predicament. Many North African countries are projected to be in a far worse position.
According to the UNWWDR report, the global volume of renewable freshwater was estimated at about 37,000 km³ in 2015. In 2017 withdrawal was about 3,800 km³, which is roughly 10% of the water resources available, way below levels considered as constituting water stress. But this global statistic is misleading as it hides real problems related to local or regional water stress, a term used to describe water as a proportion of water availability. As of 2018 South Asia has the second lowest per capita availability of renewable sources of water, above only North Africa. Large areas in India face what has been called extremely high levels of stress in which 80% of the available water is used up. In some parts of Punjab, it is even higher.
The four key areas needing work identified by Guterres were: one, close the water management gap so that there is equitable access to water while conserving it. Countries should work together to jointly manage water. Second, there must be massive investments in water with international financial institutions developing creative ways to extend financing. Third, resilience must be made a priority and include finding new ways to recycle and conserve water. Fourth, climate change must be combatted because climate action and a sustainable future for water are inseparable.
A UN conference specifically on water comes after a gap of nearly 50 years. The first such conference was held in Mar del Plata on the Atlantic coast in Argentina way back in March 1977.This shows that the world has been engaging with the problem of water for a considerable time. The UN Educational, Scientific and Cultural Organisation (UNESCO) has been releasing water reports annually for the past couple of decades. Though these have helped to highlight the issue and prompted some remedial measures, they have clearly failed to prevent the problem from acquiring crisis dimensions.
Traditionally, solutions offered to mitigate urban water shortages have been based on engineering and infrastructure like building reservoirs to store excess water and supply it during dry periods, or desalination plants in coastal cities.
Inter-basin transfers serve the needs of cities where local resources cannot meet demand. But investment in water infrastructure is costly, is limited by natural conditions and may have significant environmental impacts.
Some hope of dealing with the crisis effectively seems to lie in a new approach that has emerged over the past couple of decades: Integrated Water Resource Management (IWRM). Simply put, IWRM means coordinated development and management of water, land and related resources to enable economic and social welfare without compromising vital ecosystems.
This thinking began to take root after sustained economic growth in developing and middle-income countries with large populations such as India, China and Brazil contributed to increased pressure on water resources. Growing wealth and changing lifestyles gave rise to a general trend towards consumerism that is likely to lead to a larger 'water footprint' per capita because of the 'virtual water' content of most commodities. Virtual water refers to the total value of freshwater that is used to produce a particular good or service.
The concept of 'water footprint', somewhat along the lines of carbon footprint, is one of the planks underlying the IWRM approach. The water footprint of producing one kilogramme of sugar or paddy, for example, is estimated to be 2,500 litres, which are therefore known as water intensive crops. Water stressed countries are encouraged to switch to less water intensive crops like corn and maize. This translates into emphasis on efficiency of water use, be it agriculture, power generation or industry, or in maintaining the ecosystem and a healthy aquatic environment, measures to manage floods, ensure potable water and sanitation. The aim is to achieve a balance between 'water for livelihood' and 'water as a resource'.
Awareness in India about water conservation came fairly early and was mentioned in the 1987 Water Policy. India was among the earliest countries to adopt IWRM in 1999 and its seriousness about water conservation was evident in the 2002 Water Policy in which IWRM was mentioned as a key concept. Since then, a number of measures have been initiated at regular intervals, the earliest being rainwater harvesting and groundwater recharge on which a manual was issued in 2007.
This was perhaps prompted by the increasing recognition that the flip side to India's agricultural success was serious depletion of groundwater in several states, including the bread baskets — Punjab and Haryana. Groundwater contributes roughly 10% of the country's GDP.
But the Central Ground Water Board (CGWB) found in 2004 signs of severe depletion. Out of a total of 5,723 blocks in the country, in as many as 839 blocks groundwater extraction was in excess of recharge. In Punjab the situation worsened and, according to a CGWB scientist in 2019, there was more than 100% extraction rate in nearly all the 109 blocks of the state.
In October 2022 the Bureau of Water Use Efficiency (BWUE) was set up with the aim of improving efficiency by 20% in irrigation, drinking water supply, industries and power generation; the sahi fasal (right crop) campaign was launched in 2019 to encourage farmers in water stressed areas to switch to non-water intensive crops and wean them away from paddy, cotton and sugarcane. Besides, water intensive crops occupy only 25% of the cultivated land but consume 60% of irrigation supplied. The answer seems to lie in increasing the efficiency of water use in agriculture as India uses two to three times as much water for agriculture as the US, China and Brazil. Since more than 85% of freshwater is used in agriculture, even a small saving through efficiency could make more drinking water available for urban areas. But the task cannot be accomplished overnight as it means transforming a system that has developed over decades.