New Delhi, April 15, 2022 : Indira Gandhi Panchayati Raj & Gramin Vikas Sansthan (IGPR & GVS), Government of Rajasthan, under the auspices of the Government of India, in collaboration with the Tatsat Foundation, today announced the launch of a series of training material for the benefit of Persons with Disabilities (PwDs) in Panchayati Raj Institutions (PRI). The introductory training book in Braille was launched today, to provide greater accessibility and all-inclusivity to PwDs, at the National Stakeholders Conference on Localisation of Sustainable Development Goals, held at Vigyan Bhawan in New Delhi, in the presence of Shri. Ravi Shankar Shrivastav DG IGPRS, Jaipur, Rajasthan, Dr. Roderico H Ofrin, Representative – WHO, Shri. Sunil Kumar, Secretary, MoPR, Shri. Rajesh Bhushan, Secretary MoH&FW, Dr. Chandra Shekhar Kumar Additional Secretary, MoPR, Smt. Rekha Yadav, Joint Secretary, MoPR, along with officials of Ministry of Panchayati Raj, Government of India, Tatsat Foundation and IGPR & GVS, Government of Rajasthan, amongst others.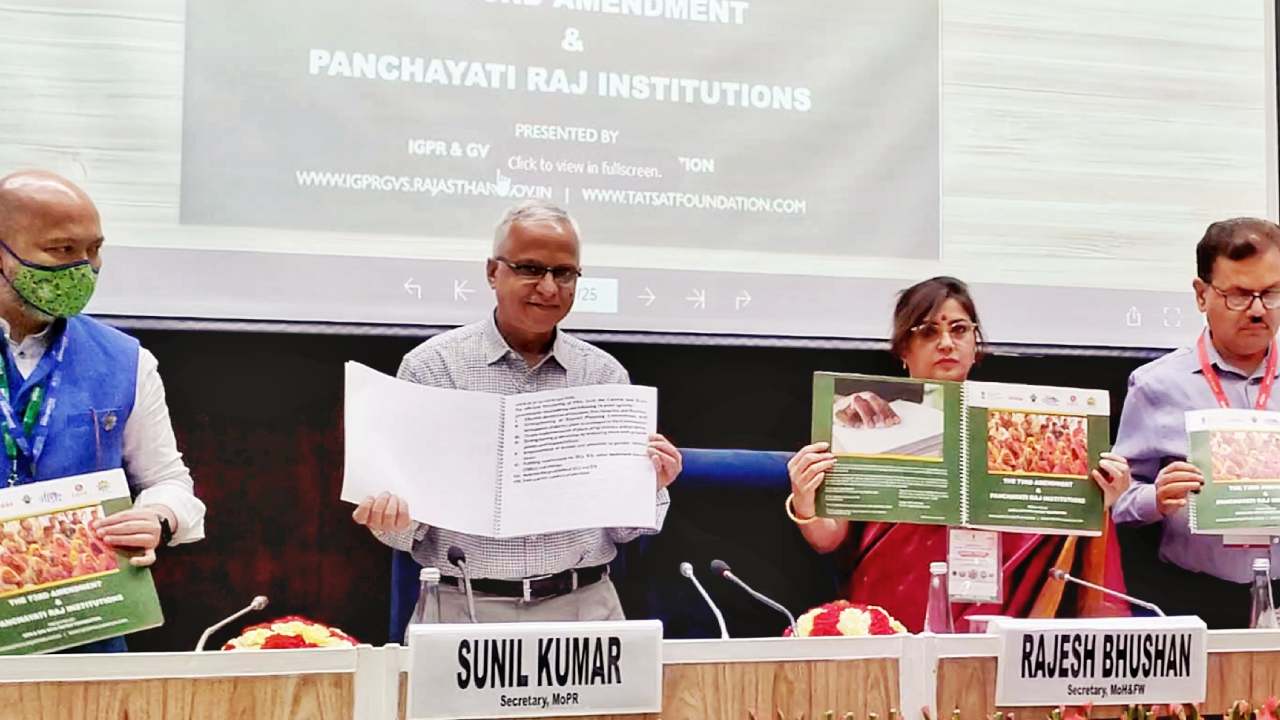 On this occasion, Shri. Sunil Kumar, Secretary, MoPR, said, "As a signatory to the 2030 agenda for Sustainable Development, India is committed to implementing Sustainable Development Goals (SDGs) across the country. The SDG slogan, 'Leave no one behind', is our effort to promote universal access to health care along with economic, social, and environmental security for all. In the wake of regional and global partnerships, and the country's commitment to 'Leave no one behind', MoPR steps into the Decade of Action across India, and will continue to work collaboratively with all domestic and global stakeholders including Panchayati Raj Institutions (PRI) towards furthering its goal of accessibility and inclusivity for all, in order to accelerate efforts for a sustainable planet for future generations".
On this occasion, Shri Ravi Srivastava, DG IGPRS, Jaipur, Rajasthan, said, "This initiative by IGPR &GVS will be a watershed in the empowerment of PwDs and functionaries not only in Rajasthan but across India. Rajasthan is the torchbearer in this respect and we look forward to furthering the task of implementation of SDGs in Rajasthan effectively".
The government of India and the Government of Rajasthan has initiated a resource center, to build a rich repository of training material, rules & regulations, and notifications among others in Braille, NVDA and sign languages, for the benefit off and use by the public officials of PRIs and rural development. The resource center will be used for training, orientation and work processes will be available under open access for use by public officials and various stakeholders for the capacity building in the task of programmes under the PRIs across India.
On this occasion, Dr Sumi Gupta, Director, of Tatsat Foundation, said, "The pledge to Leave no one behind (LNOB) is the central, transformative promise of the 2030 Agenda for Sustainable Development and its Sustainable Development Goals (SDGs). It represents a commitment by all UN Member States. The key objective is to eradicate poverty, end discrimination and exclusion, and reduce inequalities and vulnerabilities. The Braille project by IGPR & GVS in collaboration with Tatsat Foundation is a concerted effort to identify and lift up those who are furthest behind first, by promoting greater inclusivity for PwDs into the mainstream of Panchayati Raj system across India".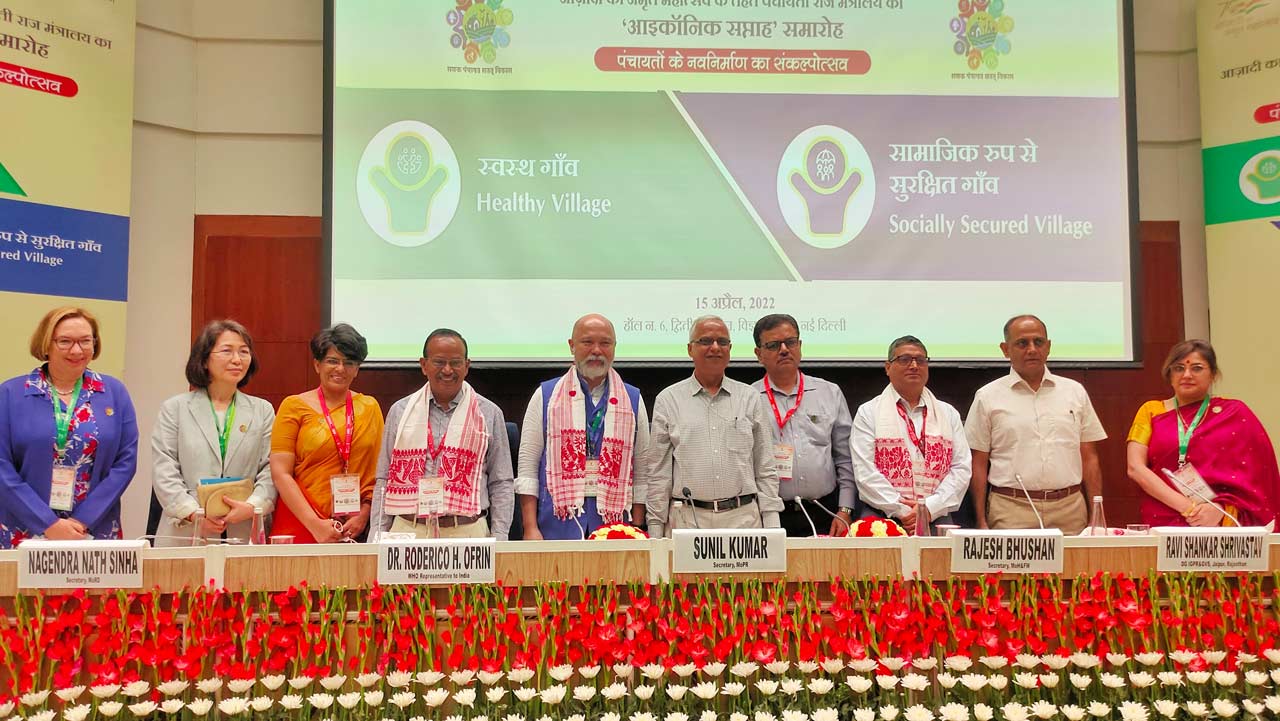 The first training book in the series of Braille books themed The 73rd Amendment and Panchayati Raj Institutions, is in English and Hindi along with Braille. The organisations will launch more books on other key subjects and Indian languages for the localisation of Sustainable Development Goals for the fulfilment of Agenda 2030. The introductory training book in Braille includes chapters on the 73rd Amendment, Roles and Responsibilities, and Structure of Panchayati Raj, among others. Besides the Braille training book, the contents of the training manual will also be accessible in Non-Visual Desktop Access (NVDA) and sign language.
ABOUT IGPR&GVS (www.igprgvs.rajasthan.gov.in)
Indira Gandhi Panchayati Raj & Gramin Vikas Sansthan (I.G.P.R. & G.V.S.) is an autonomous organization promoted by the Government of Rajasthan, as an Apex Institute of the State, with a view to developing human resources in Panchayati Raj Institutions (PRIs) and the Rural Development Sector. The Institute was registered as a Society in 1989 under Rajasthan Societies Registration Act, 1958. From July 1999, it has also been established as the State Institute of Rural Development (S.I.R.D.) under the Ministry of Rural Development, Government of India.
About TATSAT FOUNDATION: Skilling The Social Sector
TATSAT FOUNDATION (www.tatsatfoundation.com), registered member of NGOs Association of India u/s 25, Company Affairs India, steps in to bridge the gap in organizing the vast unorganized sector, in educating and skilling NGOs, in their auditing, ranking and certification to ensure an impactful mechanism, aligning with the government's aim of making a difference at the grassroots level. The company, steered by Founder Director, and CSR professional, Sumi Gupta, recognizes that improving people's lives means starting with education and skilling the social sector workers will create valuable professionals.