Kanchan Singh, a lawyer, travels only in her recently bought Electric Vehicle (EV) SUV as there is no engine noise, which makes it a pleasure to drive across Delhi even during peak traffic hours.
There are many like her who are shifting to EVs from petrol or diesel vehicles. Not only is there no need to change gears, after the initial cost the day-to-day running cost is far cheaper, there is ease of charging (with home charging stations and a slowly growing charging network), attractive range and performance offerings, and innovations coming in on the trot. These consumers feel that the future of the automobile industry lies in going electric.
At the Auto Expo 2023 in January, there was a slew of EV unveilings. India's largest car manufacturer, Maruti Suzuki, a late entrant into the segment, unveiled its electric SUV (eVX), which remains a concept as of now. There were Hyundai, Kia, MG Motor India, Mahindra and Mahindra, Lexus and Tata Motors, all showcasing their forthcoming EVs.
Tata Motors has taken a lead in this segment with a bunch of offerings. The EV roadmap adopted by Tata Motors is the result of a planned approach from a nascent stage. The step-by-step strategy adopted by the company started from restructuring models at the component level, which led to the introduction of EVs in its portfolio that are classified as first-generation Tata EVs.
It has already introduced the Nexon, Tigor and Tiago EVs, judged as the right package for consumers aspiring to go electric. These products have played a significant role in helping the country overcome hurdles in EV uptake. Tata Motors' strategy is to bring in the second and third-generation vehicles, unveiled as the Curvv and Avinya, respectively, at the Auto Expo, to further pull away from competitors. Tata Motors has committed to launching 10 new EVs by 2026.
BYD, the world's second largest EV maker, is marking steady progress in India with its offerings which have become quite a hit. Even Tesla has set up shop. Tesla Inc registered its entry into India by incorporating its subsidiary, Tesla India Motors and Energy Pvt Ltd, in Bengaluru.
India had rolled out the website, e-AMRIT—www.e-amrit.niti.gov.in—at the COP26 summit in Glasgow in 2021, with the aim of it functioning as a onestop destination for all information on electric vehicles. It seeks to address key concerns about the adoption of EVs and their purchase—such as charging facility locations and EV financing options—as well as information about investment opportunities, government policies, and subsidies available for drivers and manufacturers.
Zomato, has announced 100% electrification of its fleet by 2030, and Big Basket will do more than 70% fleet electrification by 2024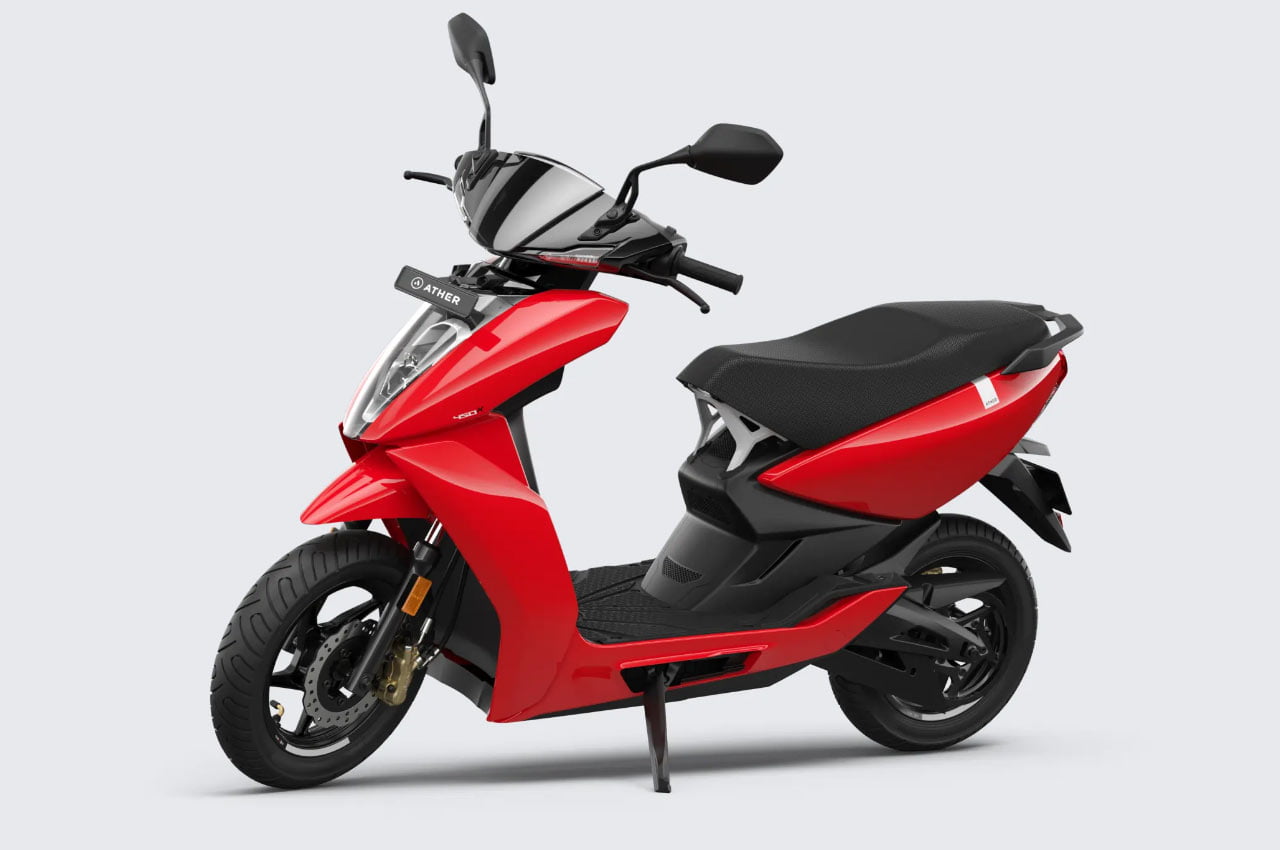 EVs are fast emerging as the vehicle of choice across multiple applications and the organised last mile delivery space is likely to dominate 25% of sales by 2025, according to a report titled "Electric Vehicles: Future of Last-Mile Deliveries in India", published by the Boston Consulting Group (BCG).
The growing popularity of EVs in the last mile delivery segment can be gauged from the multiple 'Proof of Concepts' (PoCs) being carried out and the ambitious fleet electrification commitments by key players in food, grocery and e-commerce delivery. Food delivery aggregator Zomato, for instance, has announced 100% electrification of its fleet by 2030, while grocery delivery service provider Big Basket has announced more than 70% fleet electrification by 2024, indicating a huge market opportunity for the EV ecosystem.
Global consulting firm BCG has undertaken extensive primary and secondary research to decode this space with over 40 industry experts being interviewed, including senior executives from original equipment manufacturers (OEMs), delivery platforms, energy and battery players, and EV asset operators. Over 50 EV drivers have been interviewed to understand usage patterns and on-ground challenges.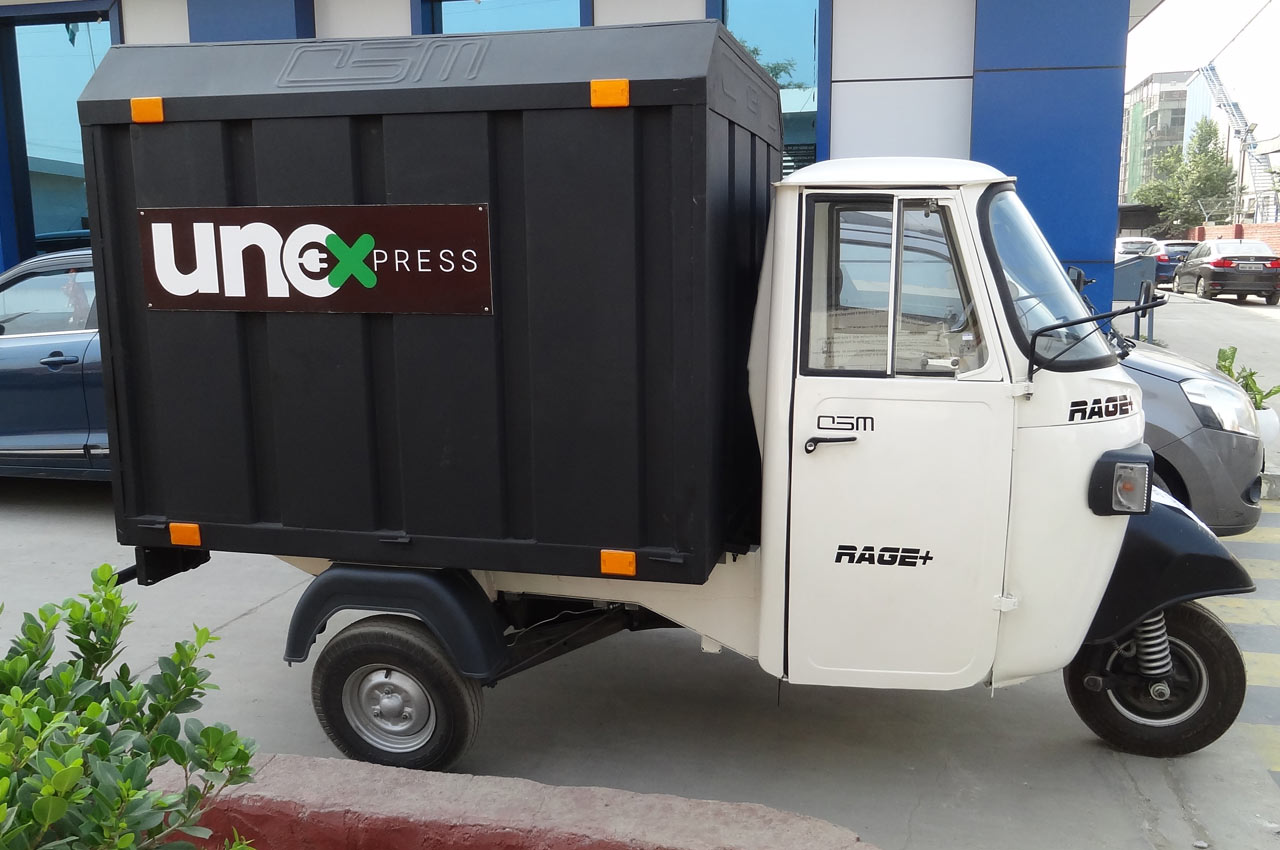 The report highlights the reasons for the popularity of EVs in the organised last mile delivery market, the emerging shifts in market dynamics and the actions that the key players of the EV ecosystem must undertake to capitalise on this opportunity.
Natarajan Sankar, managing director and partner and lead, auto and mobility practice, BCG India, said, "Last-mile deliveries are set to experience significant growth over the next five years, with a CAGR of 15-20% across a wide range of applications. For instance, the food delivery sector is projected to see a CAGR of 30% during this period. This robust growth along with supporting regulatory measures will drive the need and demand for expanded delivery fleets, leading to a 20-30% increase in adoption of EVs by 2025."
The report provides insight into shifts in market dynamics, especially ownership patterns and operating models, owing to fleet electrification
The report points out that the environmental benefits of EV deployment are not the sole determinant but financial benefits in the longer term owing to the reduced total cost of ownership (TCO) over internal combustion engine (ICE) vehicles play a significant role. Moreover, various regulatory measures by the Central and state governments in the form of subsidies and adoption mandates are driving factors behind EV adoption.
The report further provides insight into shifts in market dynamics, especially ownership patterns and operating models, owing to fleet electrification. Some of the key findings are that EV ownership models are different from those of ICE vehicles. The report points to lower ownership by driver owners owing to higher upfront costs, perceived uncertainty about technology, range anxiety, and limited awareness of TCO benefits. These factors have paved the way for EV asset operators to purchase vehicles and offer fleets on rental contracts.
The increasing role of delivery platforms as influencers: Vehicle models are no longer chosen based solely on recommendations from dealers; end-customers—such as e-commerce and food delivery platforms—act as influencers and drive vehicle selection for their fleets. They conduct pilot programmes with OEMs to identify the best-suited models for their usage and unit economics, based on which they make purchase recommendations. OEMs must factor in this trend in laying out market strategies.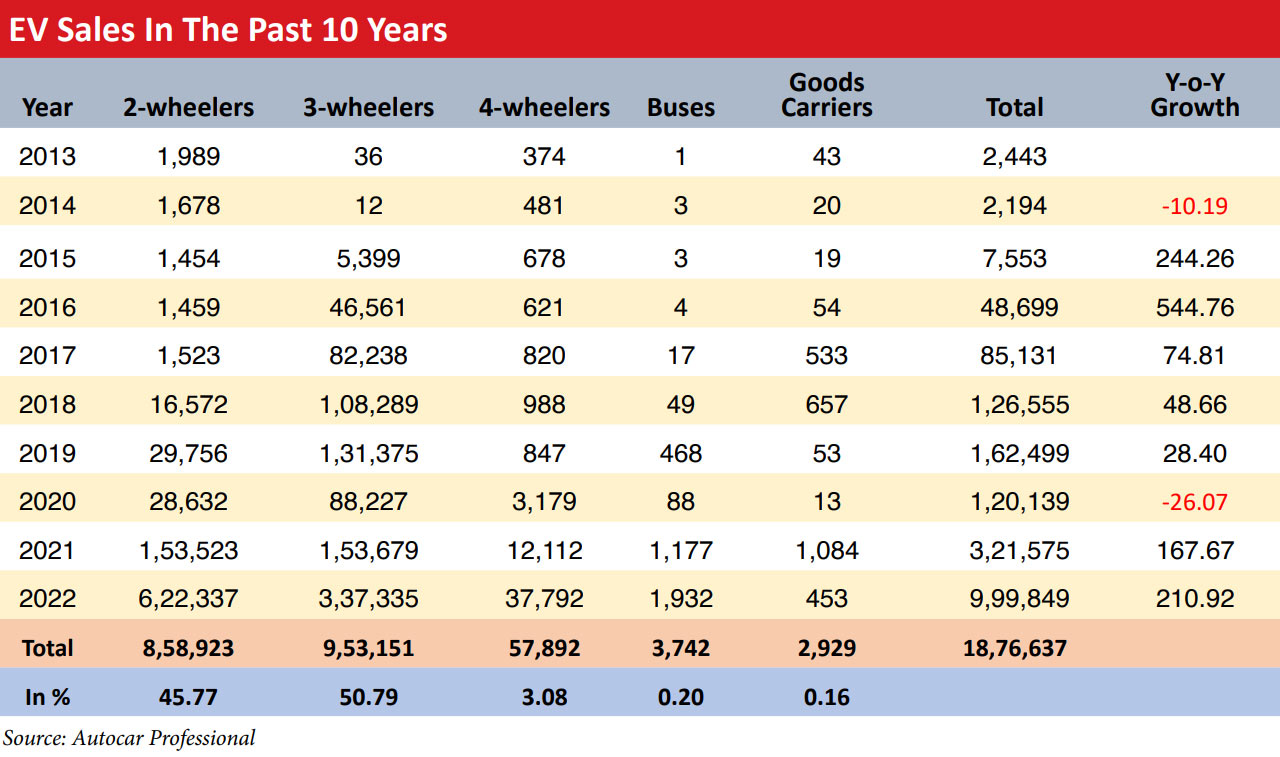 Need for 'fit-for-purpose' vehicles
Research indicates higher demand for two-wheelers and three-wheelers, as these models are used for both delivery and personal usage. Delivery personnel have unique needs, including large storage space, good pickup even after heavy load, customisation like backrest for usage over longer periods and so on, and at the same time use the vehicle for personal commute after work. Therefore, the design of the vehicles needs to factor in the needs of end-users.
According to latest available data, the two-wheeler and three-wheeler segments led EV growth over the past 10 years. These two categories made up more than 96% of EV sales, while the sale of 4-wheelers made up a measly 3.08% (see Table 1).
There is potential to increase utilisation (km covered/day) by 50% by cross-utilising vehicles across applications to minimise downtime. EV asset operators serving numerous customers are best suited to implement this, given that they serve multiple customers. Such shifts require a recalibration of strategies of OEMs, EV asset operators and other players. OEMs cannot continue to rely on conventional dealer-driven channels and will need to reimagine GTM (Go-to-market). They also need to focus on product strategy for this segment. EV asset operators must be able to differentiate their value proposition to play a more significant role in a maturing market. Delivery companies like e-commerce firms need to adopt a concerted approach to increase EV adoption and achieve their targets.
However, it's the four-wheeler segment that is most hyped up despite very low sales because big auto manufacturers are in the play. The low sales of four-wheelers can also be explained due to the limited range of the power packs, which restrict their usage on long routes. Experts point out that with steadily rising demand and proactive government incentives, India's EV industry has shown exponential growth in the past two years. Domestic four-wheeler EV sales in 2022-23 are set to cross the 60,000 to 65,000 units mark, which would still be at the low end of total EV sales.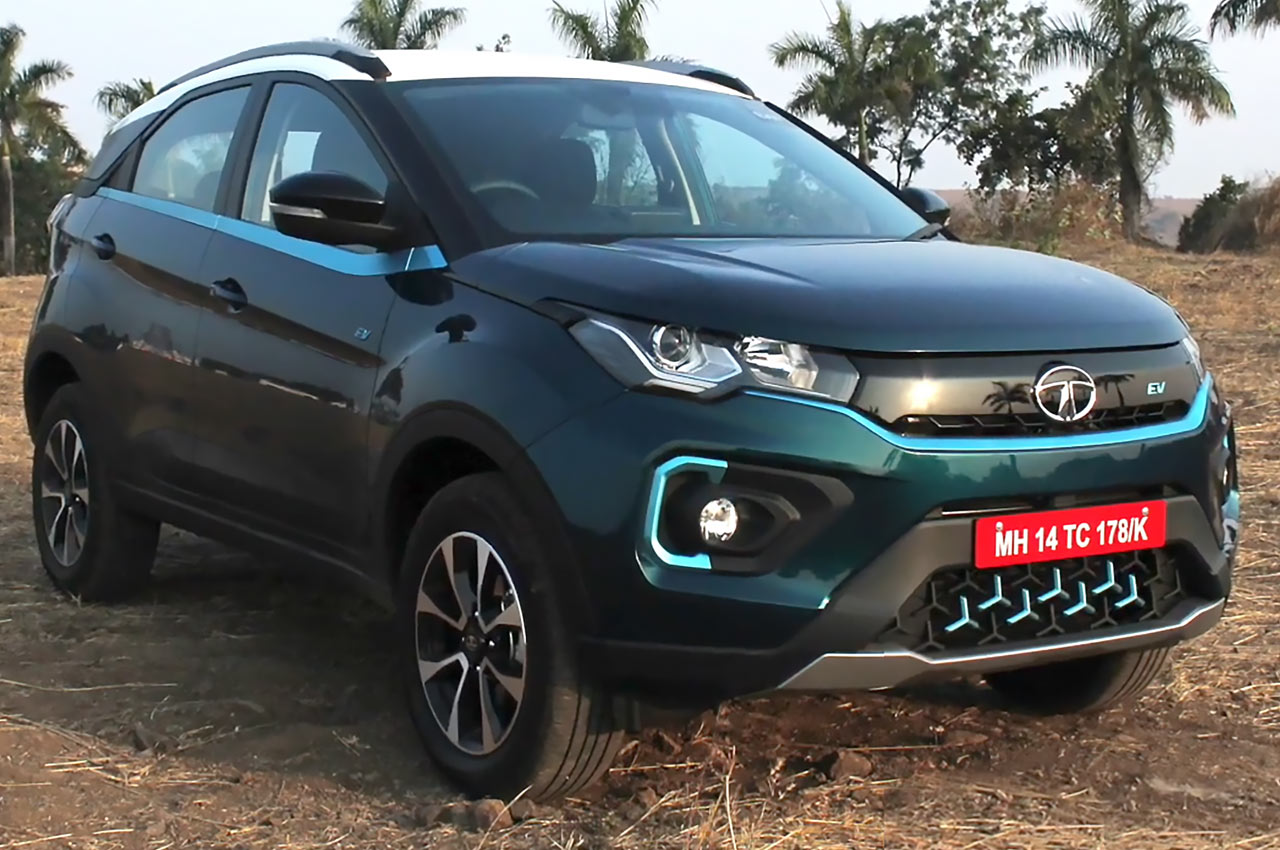 A report by the Ministry of Road Transport and Highways (MoRTH) in July 2022 said that there were over 13 lakh electric vehicles in the country. According to official data, as of December 9, 2022, about 64 OEMs of EVs had been registered and had revalidated their EV models. Over 7,47,000 EVs had been sold as part of FAME India Phase II. More than half of these EVs are three-wheelers and are used for commercial transportation, with roughly 8,00,000 two-wheelers being used for personal transportation.
Charging infrastructure is a problem, but efforts are on to improve it. Tata Power, the country's largest charging infrastructure provider, says it has chargers from Kashmir to Kanyakumari, and from Surat in the west to Nagaon in the east. Incidentally, Tata Power's app also allows users to locate charging stations near them and makes payment hassle-free. There is also the Plugshare app, which shows charging points of all providers.
But range and charging anxiety remain a big challenge. Addressing consumers' need for a robust network of fast-charging stations that would give them the confidence of being able to reach their destinations without worrying about running out of charge, Ather Energy claims it has over 900 charging points.
Experts point out that public-private partnership (PPP) models will be an important factor in determining the success of EV infrastructure. There is also the question of standardisation of chargers—whether AC or DC chargers should be made the norm.
The government said in July last year that there were 398 charging stations across the country and the Ministry of Heavy Industries had sanctioned 2,877 charging stations in 68 cities across 25 states and Union Territories, out of which a large number have been installed. There are 1,576 charging stations sanctioned for setting up across nine expressways and 16 highways. The ministry expects the number of EVs to cross the three crore mark over the next two years.
Building an ecosystem
The government launched the Faster Adoption and Manufacturing of (Hybrid &) Electric Vehicles in India (FAME India) scheme in 2015 with the aim of reducing dependency on fossil fuel and to address the issue of vehicular emissions. At present, Phase-II of the scheme is being implemented for a period of five years from April 1, 2019, with a total budgetary support of ₹10,000 crore. On May 12, 2021, the government also approved a Production Linked Incentive (PLI) scheme for manufacturing of Advanced Chemistry Cell (ACC) in the country in order to bring down battery prices. Drop in battery price will result in cost reduction of EVs, which is expected to encourage wider adoption. Further, a budgetary outlay of ₹25,938 crore for a period of five years has been made for the auto component sector under the PLI scheme. In addition, GST on EVs has been reduced from 12% to 5% and on chargers and charging stations from 18% to 5%.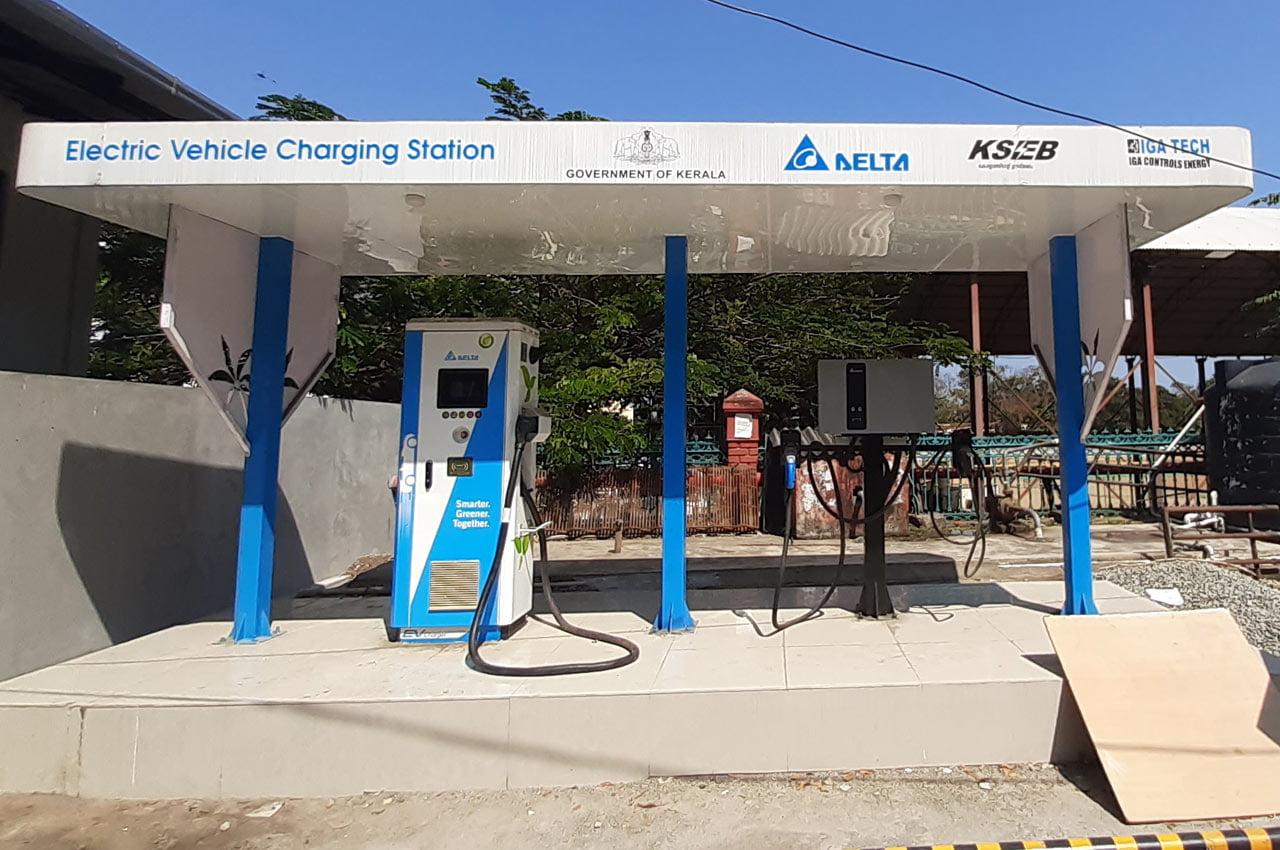 MoRTH announced that battery-operated vehicles will be given green licence plates and be exempted from permit requirements for commercial vehicle operators plying between different states. It also issued a notification advising states to waive road tax on EVs, which in turn will help reduce the initial cost of these vehicles.
The PLI Scheme for the auto sector is open to existing automotive companies as well as new investors who are currently not present in this sector
The PLI Scheme for the auto sector is open to existing automotive companies as well as new investors who are currently not in the au-to mobile or auto component manufacturing business. The scheme has two components:
Champion OEM Incentive Scheme: This is a sales value linked scheme, applicable on battery electric vehicles, and hydrogen fuel cell vehicles of all segments.
Component Champion Incentive Scheme: This is a sales value linked scheme, applicable on advanced automotive technology components of vehicles, completely knocked down (CKD) and semi knocked down (SKD) kits, vehicle aggregators of two-wheelers, three-wheelers, passenger vehicles, commercial vehicles, tractors and so on. The FAME II scheme aims to make electric two-wheelers more affordable. As of July 11, 2022, about 469,315 EVs were supported through demand incentives amounting to about ₹1,869 crore.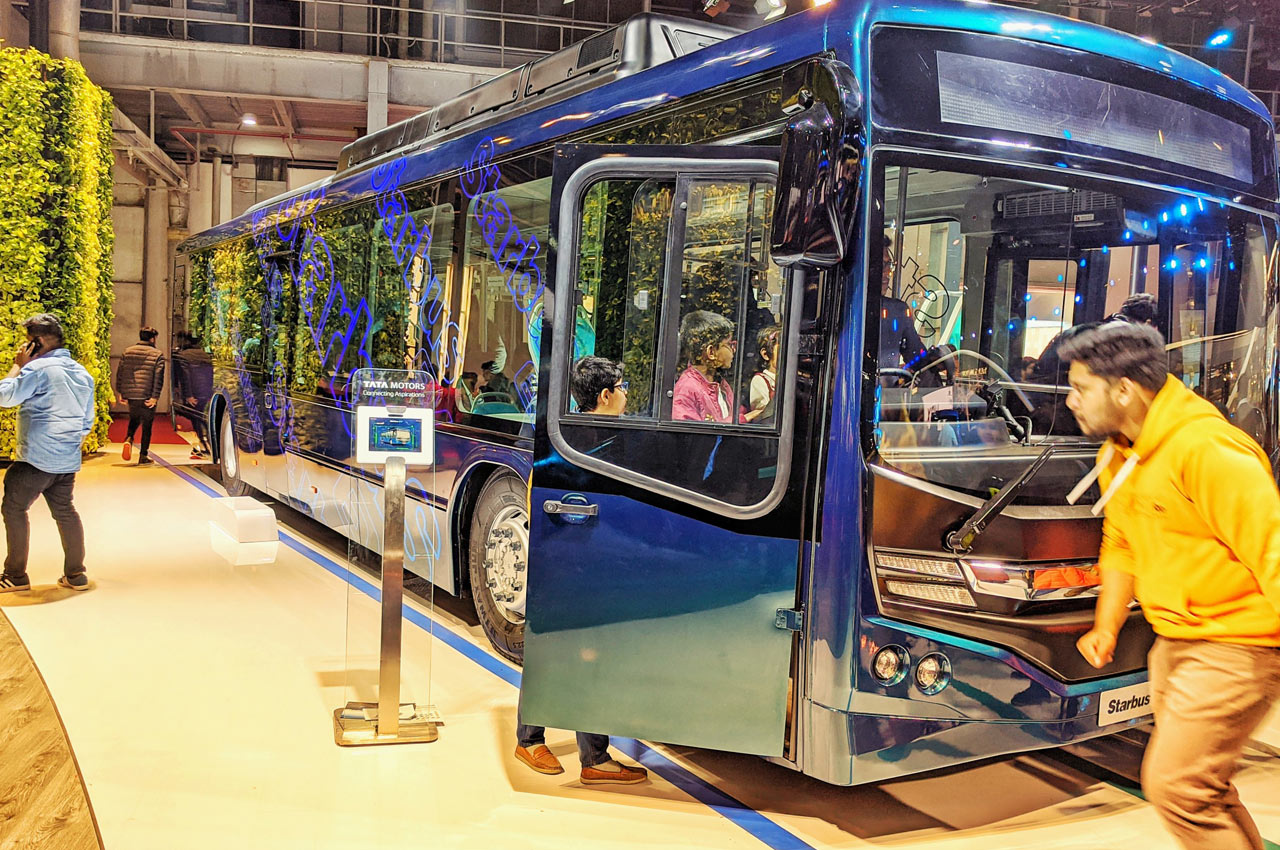 At present, the EV market is dominated by NCM (nickel manganese cobalt) and LFP (lithium iron phosphate) batteries. However, auto players are trying to innovate at the battery level, striving to create power packs that are inexpensive, energy dense, and light. Batteries usually account for 35% to 40% of the total cost of the vehicle.
Industry followers point out that virtual technology could have a game-changing impact on EV charging. Smart charging, where the EV and charging device share a data connection and are connected to the cloud, which essentially means adapting the charging cycles of EVs to the needs of vehicle users and the power system, is on the anvil.
Some states like Karnataka and Tamil Nadu are rolling out innovative and investor-friendly policies besides building necessary infrastructure
According to a study by CEEW Centre for Energy Finance (CEEW-CEF), the EV market in India is expected to be a $206 billion opportunity by 2030 if it maintains current growth rates. This would require a cumulative investment of over $180 billion in vehicle production and charging infrastructure. In 2021, the Indian EV industry attracted $6 billion in investment and is steadily becoming more attractive to private equity and venture capital investors.
A report by India Energy Storage Alliance (IESA) says that the Indian EV market will grow at a CAGR of 36% till 2026, while the battery market is projected to grow at a CAGR of 30% during the same period. On the other hand, the EV market is estimated to grow at 49% CAGR between 2022 and 2030. Overall, by 2030, the EV industry is set to create 10 million direct jobs and 50 million indirect jobs. India is also witnessing the rise of a sizeable EV financing market, with NITI Aayog projecting it to be worth $50 billion by 2030.
Responding to the opportunity that India's EV industry presents, many leading industry players such as OLA Electric Mobility, Ather Energy, and Mahindra Electrics are rapidly establishing their market presence. Moreover, some states like Karnataka and Tamil Nadu are rolling out innovative and investor-friendly policies besides building necessary infrastructure.