Standing at the edge of what looks like a few acres of slush and wastewater with heavy growth of water weeds like hyacinth, 35-year-old Ramveer Tanwar of Dadha village in Greater Noida mumbles, "This used to be a healthy waterbody 20 years ago. Children used to swim here. Now, it looks nothing more than a wasteland."
The dying waterbody constituted both a heartache and a challenge for this engineer turned social entrepreneur. What pained him was the sight of yet another former pond reduced to wasteland; what challenged him was yet another wasting waterbody to be turned back into a thriving pond.
This is where his strength lies — rejuvenating ponds and other waterbodies, an activity that has consumed his mind and soul for the past decade or so.
The area of Gautam Buddh Nagar district, or the region of Noida and Greater Noida, is fertile plain that has been fed by the Yamuna for thousands of years. The region has seen civilisations spring up and flourish on its rich offerings of fertile soil and abundant water. Other than rivers, the ecology of the region was well supported by thousands of large and small ponds that dotted the region. Until a few decades ago, these ponds were worshipped, and locals used the water for household purposes. But all this changed when tap water became available and lifestyles were transformed. Today, the Greater Noida Industrial Development Authority (GNIDA) alone has identified 400 dead ponds in the region that urgently need to be revived.
Cow dung and Sokh Samundar
India is a land of villages. Just until a few decades ago more than 70% of the population lived in villages and rural areas. However, things started to change as cities expanded rapidly and large industries became confined to a few big cities. This was followed by agriculture losing its prominence as a major occupation. All this resulted in massive migration to the big cities for employment. Mega infrastructure projects astronomically hiked real estate prices and this put pressure on land in and around the big cities as towering residential and commercial apartments were built.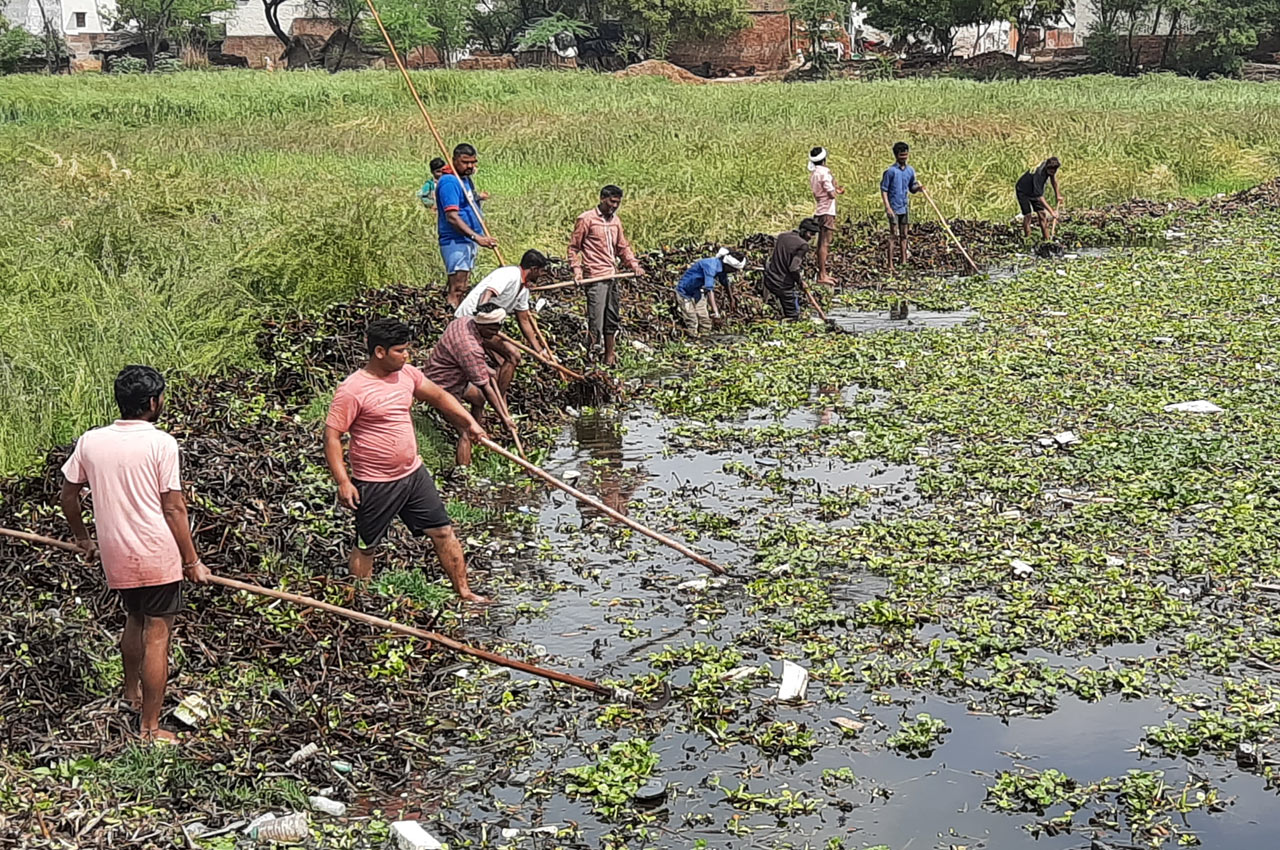 It is not unusual to see small pockets of rural villages nestled between high-rises in the national capital region (NCR). As farmers sold most of their agricultural lands to the government for residential and commercial infrastructure projects, buildings and roads came up and village area was squeezed. In the narrow lanes of Greater Noida villages, it is not uncommon to see a Fortuner SUV and a bullock cart vying for space. Rich farmers have built huge mansions while the poorer ones have smaller plots. They all still keep cows and buffaloes for milk and manure.
A few decades ago, when there were many more ponds and lakes and the human and animal populations were dispersed, this inflow of waste was still manageable
However, these animals had wider areas to graze on earlier but are now mostly confined to small sheds and survive on animal feed. Around every such household, a small mountain of cow dung can be found standing in a corner. On the ground, and on the outer walls of houses are cow dung cakes left to dry. These cakes are used by household kitchens as fuel in mud chulhas (stoves) which still exist as they are cheaper than LPG cylinders.
So where does the surplus dung go? How is it disposed of? Most of it finds its way to nearby waterbodies. A few decades ago, when there were many more ponds and lakes and the human and animal populations were dispersed, this inflow of waste was still manageable. But with fewer waterbodies and increased con-centration of such waste, silt accumulates in the waterbodies and the bowl of an average pond which used to be 10 feet deep is now just three or four feet. Over a period of time sludge accumulates in the ponds too. At first, it claims the outer rim of the pond, then gradually shrinks the waterbody before settling on the bed.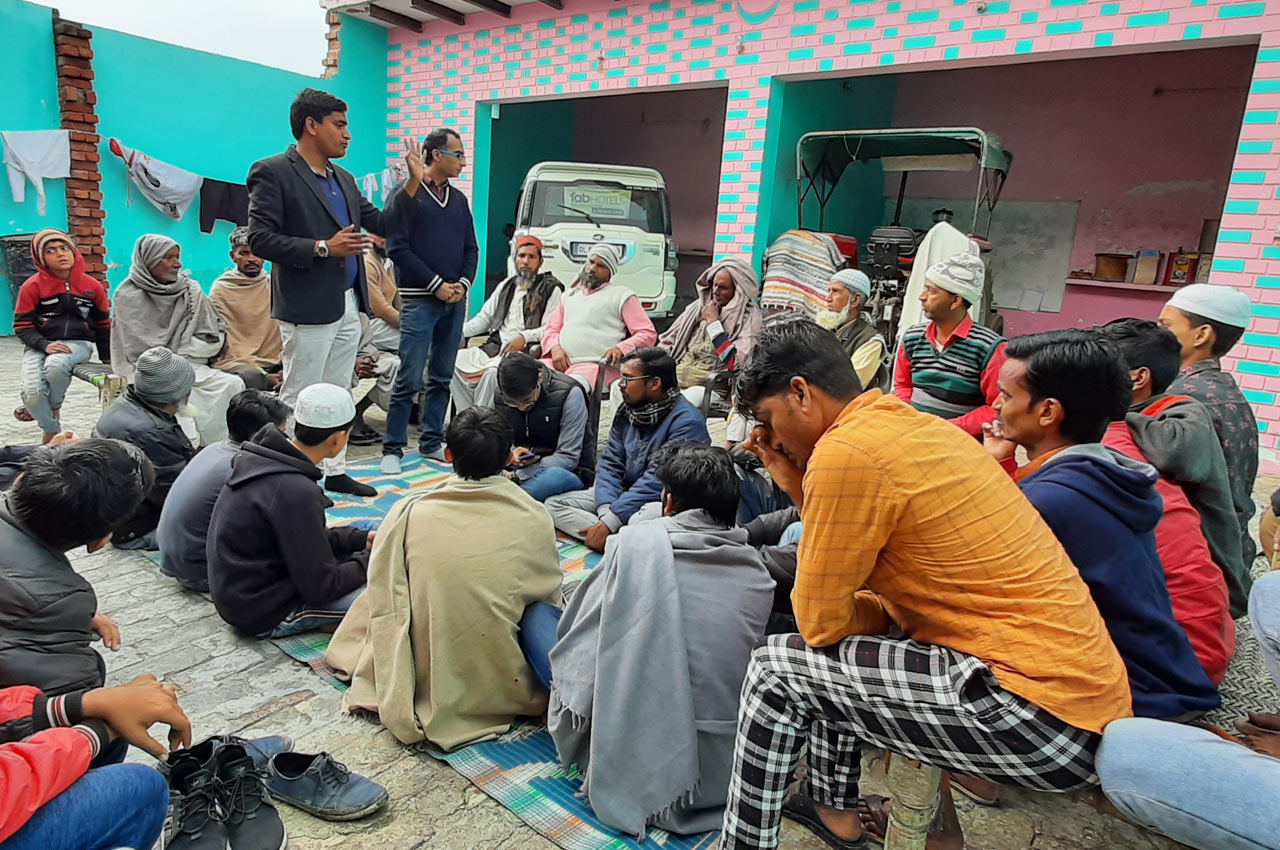 Chemically, this sludge is environmentally both beneficial and harmful. One benefit is that it constitutes excellent compost. As the dung accumulates, it changes the ecology of the pond too. Aquatic plants like water hyacinth or jalakumbhee start to grow and take over the waterbody. Their small roots blossom like flowers. In these parts of Uttar Pradesh, ponds are called Sokh Samundar as it eventually dries out any waterbody it inhabits. These water hyacinths grow because of biochemical oxygen demand (BOD)—a measure of biological degradation of effluents which indicates the consumption level of oxygen by bacteria, which is necessary for the degradation processes. Due to the dung, BOD shoots up, leading to invasive species like water hyacinth, cucumber grasses and other congruent grasses taking over the micro ecosystem. This combination of silt, dung and water hyacinth chokes the waterbody. Eventually, it ceases to ex-ist.
Mission of the pond man
Sitting in the farthest corner of Greater Noida (across the Eastern Peripheral Expressway in Bulandshahr district), there is nothing extraordinary about Dadha village. The area around it has been developed into a huge industrial park with mega projects like the Delhi-Mumbai Integrated Freight Corridor passing nearby.
Tanwar grew up in this village and hoped to become an engineer to support his family. A nature lover by heart, he used to become upset over the condition of ponds and wetlands in the region. "When I was studying for graduation, I realised how the waterbodies near us are becoming dumping yards. The ponds where I learned to swim were no more. All you could see were filthy landfills. I thought, what is the point of studying when one can't keep their surroundings clean and sustainable?"
It was clear that however inspiring Tanwar's story might be, cleaning all the ponds was not a one-man effort. The government needed to step in as the groundwater level was depleting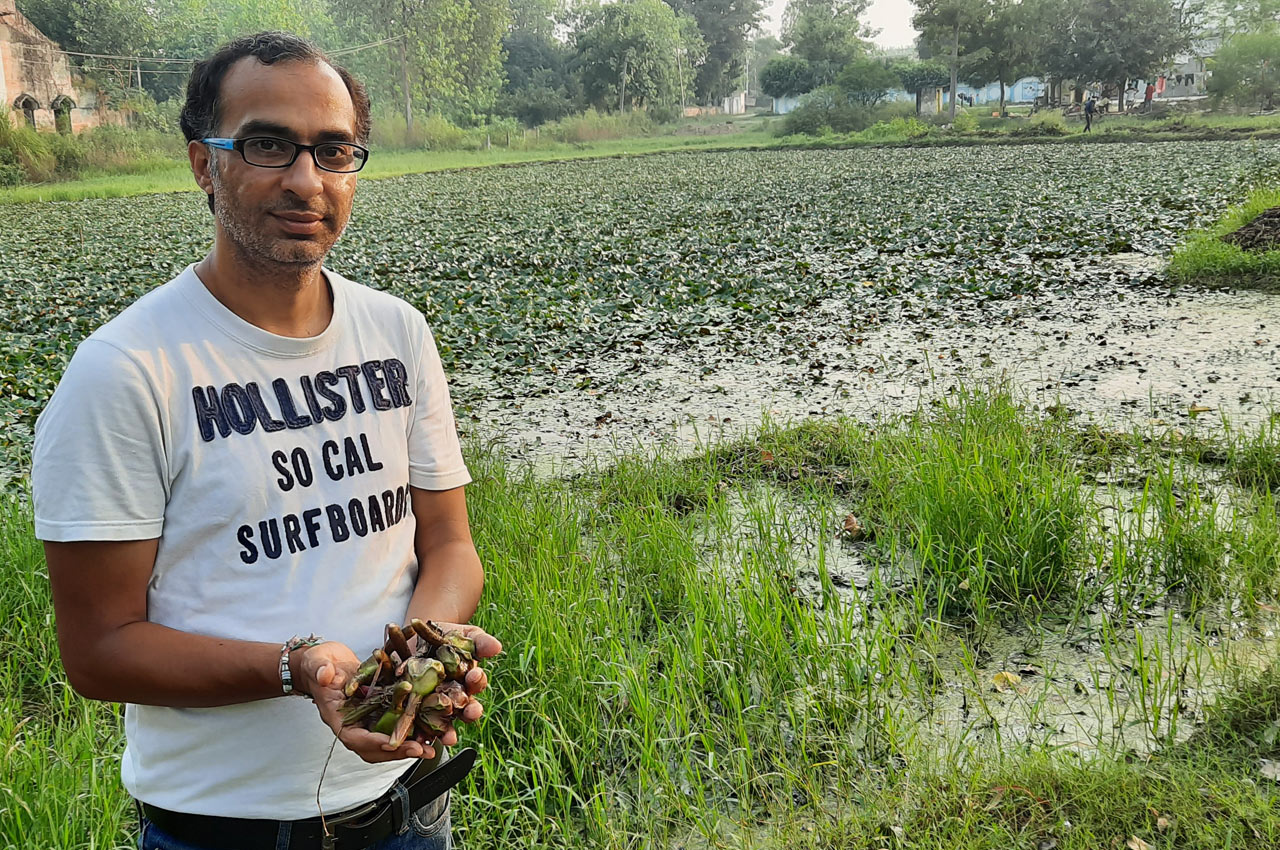 Tanwar decided to clean the Dadha pond, which was full of weeds. He began by clearing the outer edge of the pond, plucking the tall weed grass by hand. He was joined by one or two local friends who were like-minded. It became a routine. Every day after college classes, this group of youths would uproot the weeds, deposit the stalks far from the pond and later carry away the bundles for disposal. The effort went on for almost two years.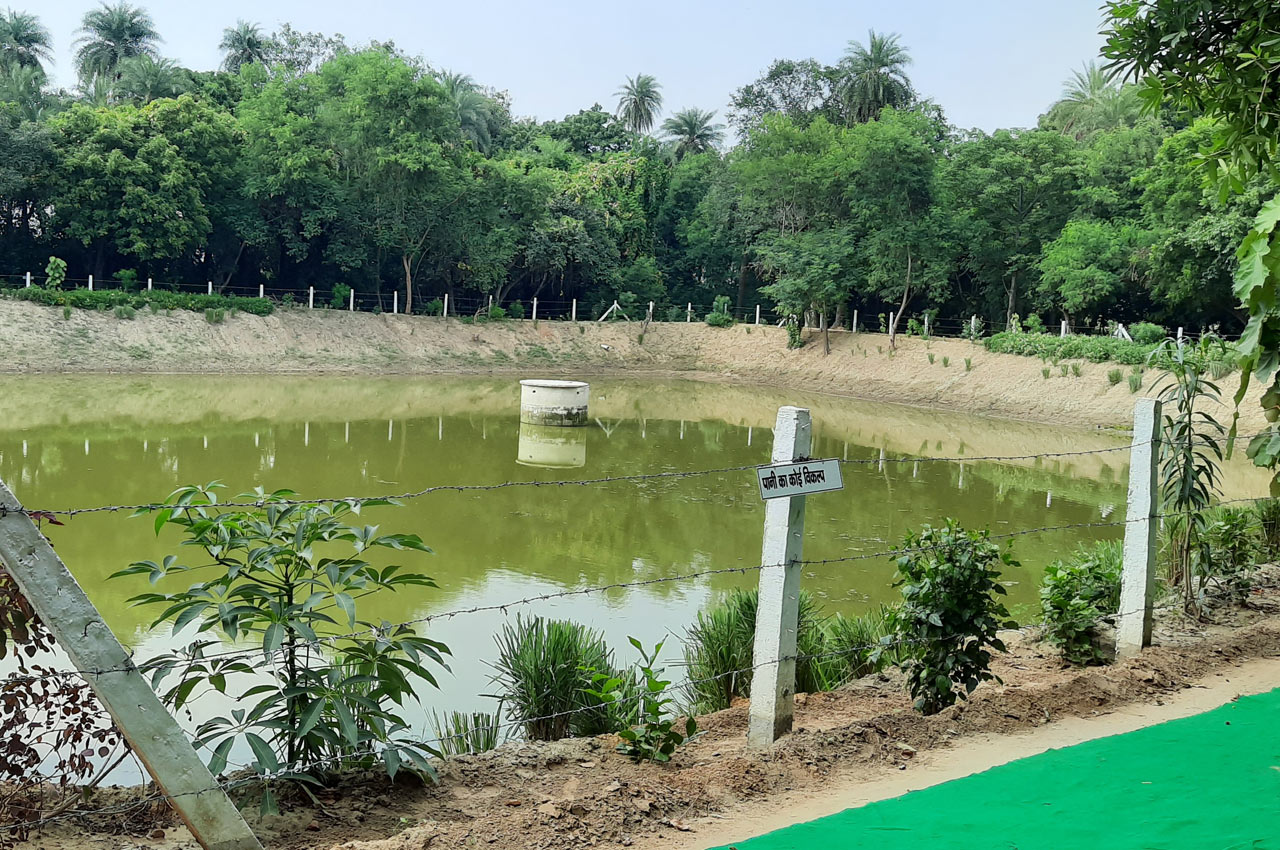 After graduation Tanwar joined the corporate sector but his determination to find time after work ensured he was at the cleaning job every single day. The team also dug out the waste settled on the pond bed to allow access for fresh ground-water. Gradually, other villagers joined in after seeing how the strenuous effort of a youth was rejuvenating the pond. All the hard work paid off and a large part of the pond was now usable.
After the success of his first initiative, Tanwar left his job to become a full-time environmentalist. He started by building awareness in the neighboring villages about the importance of waterbodies. Being educated, he also started to call upon NGOs and local government for help and tie-ups to clean dead ponds and wetlands in the region. Within a few years he had restored 10 ponds by removing tonnes of garbage.
His moment of glory came when Prime Minister Narendra Modi mentioned him in his monthly radio talk, Mann ki Baat. The PM praised his efforts and said, "People know Ramveer Tanwar as the Pond Man. Ramveer was doing a job after completing his mechanical engineering. However, such a sense of devotion for cleanliness ignited in his mind that he left his job and started cleaning ponds. So far, he has revived many ponds by cleaning them."
Groundwater crisis and pond revival
It was clear that however inspiring Tanwar's story might be, cleaning all the ponds was not a one-man effort. The government needed to step in. More so, as the groundwater level in the Noida region was depleting. According to a UP government report of 2022, the area around Government Degree College in the pre-monsoon season had groundwater at 30.3 metres the previous year but had dropped to 31.4 metres in 2022. In Sector 39, the groundwater level dropped to 30.14 metres from 30.82 metres within a year. This pattern can be seen across Noida and Greater Noida.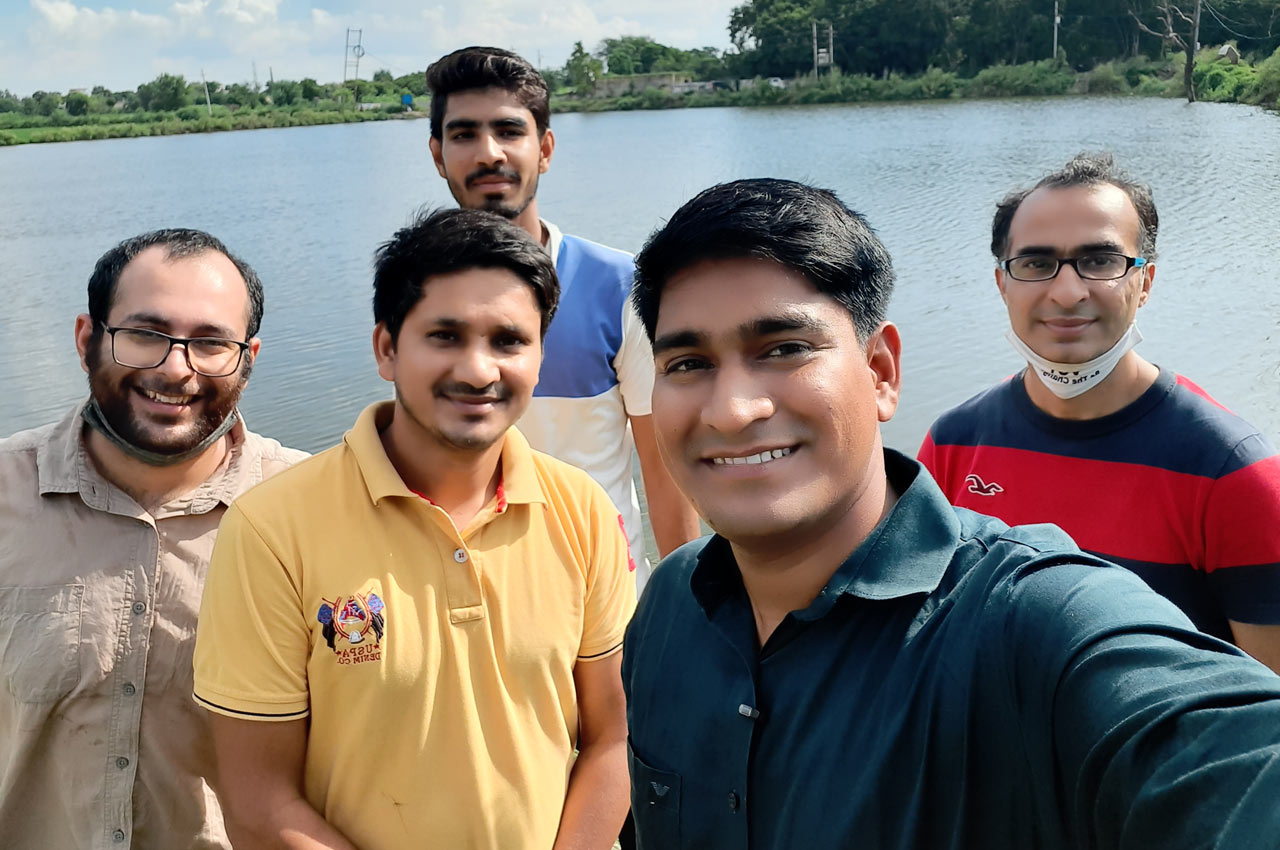 The drop in water level has also resulted in many wells and tube wells drying up, leading to severe shortage of drinking water in rural areas. The main problem is that people are extracting more water than is replenished. There is such shortage of 'home-produced' water in Noida and Greater Noida that today almost 50% of its demand is met by Ganga water. According to experts, Noida city needs 406 million litres of water every day and 50% of this is sourced from the Ganga.
Officers of the Ground Water Department of the UP government say that the government has adopted a two-pronged approach to arrest the decline in groundwater level and possibly reverse it. The first method is to resort to water harvesting for which huge tanks are being built in Sectors 2 and 31 in Noida. These harvesting tanks are over 2,000 sq. m in area and expected to play a big role in water harvesting in the region. The second important step is restoring the local ecological system by rejuvenating hundreds of ponds in Gautam Buddh Nagar district.
Efforts of GNIDA, corporates and NGOs
GNIDA is waking up to the huge task at hand, announcing in December 2022 that it will help revive 244 dead ponds within one to two years. This initiative comes after the UP government directed all districts to rejuvenate ponds for ar-resting groundwater depletion.
The plan is to dig at least two metres of the pond bed, build an embankment around with footpaths, and plant medicinal and ornamental plants. It is expected that if the ponds are ready before the monsoon, rainwater will recharge them and they can once again become a source of water for villages.
However, if the authority is really serious about reviving the ponds, it should look at digging a minimum of eight feet (2.5 metres) and follow the established protocols of pond rejuvenation.
Talking about the progress made so far, a technical supervisor with GNIDA said that the authority has cleaned 130 ponds in Noida and Greater Noida. The authority claims to have completed 60% of the rejuvenation work, with help from NGOs and corporates such as HCL Foundation. GNIDA expects to complete the rejuvenation of the 244 listed ponds in the next six months. For many of these projects, Tanwar works with GNIDA or other allied NGOs and corporates to speed up the process while providing expert advice.
The process of reviving lakes and ponds is mechanized, yet time consuming. Usually, a large part of the pond is covered with hyacinth and other weeds. The first step involves their removal. This is done manual-ly, often involving the local population. The removed biomass is turned into compost that is distributed to farmers.
The next step involves pumping out the water to ensure the bed is dry before excavation. Then the sludge is removed and placed on the shore to dry before distribution to local people, who use this chemically rich mixture of soil and organic matter as a fertiliser.
Then begins the de-silting process for which heavy earthmoving machinery is used. This is a long and tedious process as the bed is dredged to a depth of at least 10 feet (three metres) but not exceeding 12 feet to prevent damage to the sand layer, which acts like a filter for groundwater. To prevent dung from flow-ing back into the rejuvenated pond, D-traps are built at the end of the drains carrying wastewater from the villages into the pond and they function as filters. The last step involves building a small island in the middle which is done to attract migratory birds after the pond be-comes self-sustainable. Usually, after restoration work is complete, the pond gets recharged in three to four months.
"Birds don't nest on the edge of the pond but on the island because they are undisturbed there. They are also protected from feral dogs, who kill the chicks and damage the nests. These islands are important for completing the ecological cycle of the ponds," explains Tanwar. Like large wetlands in Surajpur, these ponds too attract local and migratory birds for breeding.
"It is really satisfying to see a dead pond spring back to life, tidy and clean with fish and birds and other types of fauna back in the ecosystem. It's a heritage which we have to consciously guard and preserve," says Tanwar. His proud col-lection of 'before' and 'after' pictures of the revived ponds speak for them-selves.
Tanwar has earned fame and awards for his conservation work. He has been invited to deliver many TEDx Talks and is one of the brand ambassadors of Swachh Bharat
Ranveer Singh, a retired schoolteacher, also voices his appreciation. He is from a nearby village where cleaning of a local pond is in progress. He says, "The villagers needed the pond. Previously it used to over-flow which caused a lot of problems as the water would spread in all directions. The houses used to get filled with filthy overflow, which underlined the importance of rejuvenating the pond."
Tanwar underwent a training programme under the Central Pollution Control Board and founded an NGO called Save Earth. He runs a campaign called Jal Chaupaal in the region, a social initiative through which he and his team talk about the importance of conserving water. Villagers join in for a free-wheeling discussion and provide inputs. This form of participative learning goes a long way in sensitising the villagers about the importance of water and reviving ponds.
Tanwar has earned fame and awards for his conservation work. He has been invited to deliver many TEDx Talks and is one of the brand ambassadors of the Swachh Bharat Abhiyan. But he is not sitting on his laurels. Success has not changed him. He still wades into slush and garbage to clean wetlands. "People take up activities like these in their free time or consider it as a post-retirement thing. This is not a post-retirement job but an everyday duty for every youngster. They have to find time in their daily routine to work for the environment. Only then will we be able to make a difference," he emphasizes.
While Tanwar's is a local success story, it's merely a drop in the ocean. A 2018 NITI Aayog report says India is facing the "worst water crisis in history". The report said that 600 million people suffer from severe water shortage. Access to potable water is such a problem that almost two lakh die every year for want of it. The report states that by 2030 50% of Indians will not have access to potable water. If ever there was a time to conserve water and help the water tables rise, it is now.