Prime Minister Narendra Modi attended the 30th National Commission for Women (NCW) Foundation Day event through video conferencing last evening. The theme of the programme was She The Change Maker to honour women's accomplishments in many disciplines.
Speaking at the ceremony, the Prime Minister said that today, women are providing jobs to people and the government is assisting them through schemes such as Pradhan Mantri MUDRA Yojana. He said, the role of women is continuously expanding and there is a need for expansion in the role of the National Commission for Women. He said, all the country's women's commissions will have to broaden their mandates and provide new direction to the women of their respective states.
The Prime Minister said, "Today, there are strict laws on crimes against women and provision has also been made for hanging in heinous cases of rape. Fast-track courts are also being set up across the country. Systems are also being improved with the cooperation of the states to ensure that the new laws are strictly followed."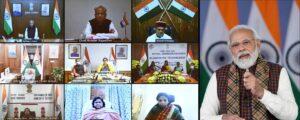 He highlighted the efforts taken by the Centre for women. "Several efforts are underway to increase the number of women help desks in police stations, to have an around-the-clock helpline and a portal to deal with cybercrimes. Most importantly, today the government is working with the zero-tolerance policy on crimes against women. In all these efforts, the National Commission for Women works as a bridge between the women and the governments in collaboration with the State Women's Commissions. I am sure that your positive role will continue to strengthen our society in the same way," he said in his address.
Union Minister for Women and Child Development Smriti Irani, Ministers of State Dr Munjpara Mahendrabhai Kalubhai and Darshana Jardosh, and National Commission for Women Chairperson Rekha Sharma were present on the occasion.