For the first time in the history of independent India, girls fresh from school will appear in examinations held by the Union Public Service Commission (UPSC) for entry to the National Defence Academy (NDA) that guarantees permanent commission in the Army, Navy and Air Force. The step, seen as a watershed, will bring India on a par with many Western powers that offer job security and opportunities for women to serve as full-time officers in uniform.
Men have various options to join up but for women in India the Short Service Commission (SSC) – or its earlier avatar, known as "Special Entry Scheme, has been the only route since 1993 to become officers and that too for a short tenure of 14 years. NDA graduates have opportunities for greater mobility than those entering through the other recruitment windows.
The Supreme Court in September, refusing to budge from an earlier ruling, said women can appear for this year's NDA entrance examination on November 14 and earn permanent positions as officers but the defence ministry sought time until May 2022 to make changes in logistics and infrastructure to accommodate female cadets in the Academy, which is currently a males-only bastion.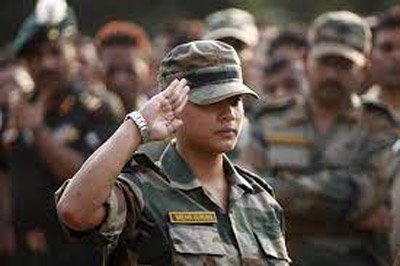 "While the education curriculum is well-set, all the rest of the aspects of training are required to be formulated separately for women candidates …. Any dilution of physical training and service subjects like parameters of firing, endurance training, field craft and living off the land for women cadets would invariably impact the battle worthiness of the Armed Forces," the ministry said but the two-judge bench hearing a petition demurred.
"After we have given them hope, we don't want to deny them," Justices Sanjay Kishan Kaul and B.R. Gavai said, referring to their August 18 order making women eligible for the written exam held twice a year which produces lifetime officers for the three services.
"You have referred to fitness tests, accommodation, curriculum changes and so on…but what we are finding it difficult to accept is to postpone everything by a year. Having given hope to women to take exams in November, we don't want to belie that hope," the judges said.
It was a second bid to stonewall attempts to allow women into the 67-year-old Academy, located at Khadakvasla, some 20 km from the city of Pune in Maharashtra state. The defence ministry last year had even argued soldiers with a rustic background would find it difficult to take direct orders from superior female officers.
The court rejected that argument as "disturbing" and in a landmark ruling in February 2020 observed women must be offered permanency, irrespective of them having crossed 14 years or, as the case may be, 20 years of service.
The Supreme Court in September, refusing to budge from an earlier ruling, said women can appear for the NDA entrance examination on November 14.
The army agreed to grant SSC women permanent commission in all the 10 streams in which they serve. It followed up by offering the status to 147 female officers, taking their total number to 424 since the February order of the apex court. But aspirants say it is not enough.
The NDA is modelled on Britain's Sandhurst and is on a par regarding standards with the US military academy at West Point or the French École special militaire de Saint-Cyr. Cadets undergo training for six terms over three years and have to put in another year specialising in the service of choice before commissioning. On an average, some 400 cadets pass out from NDA before they move on to one of the three specialised academies in the country – for the Indian Army, the Indian Navy and the Indian Air Force.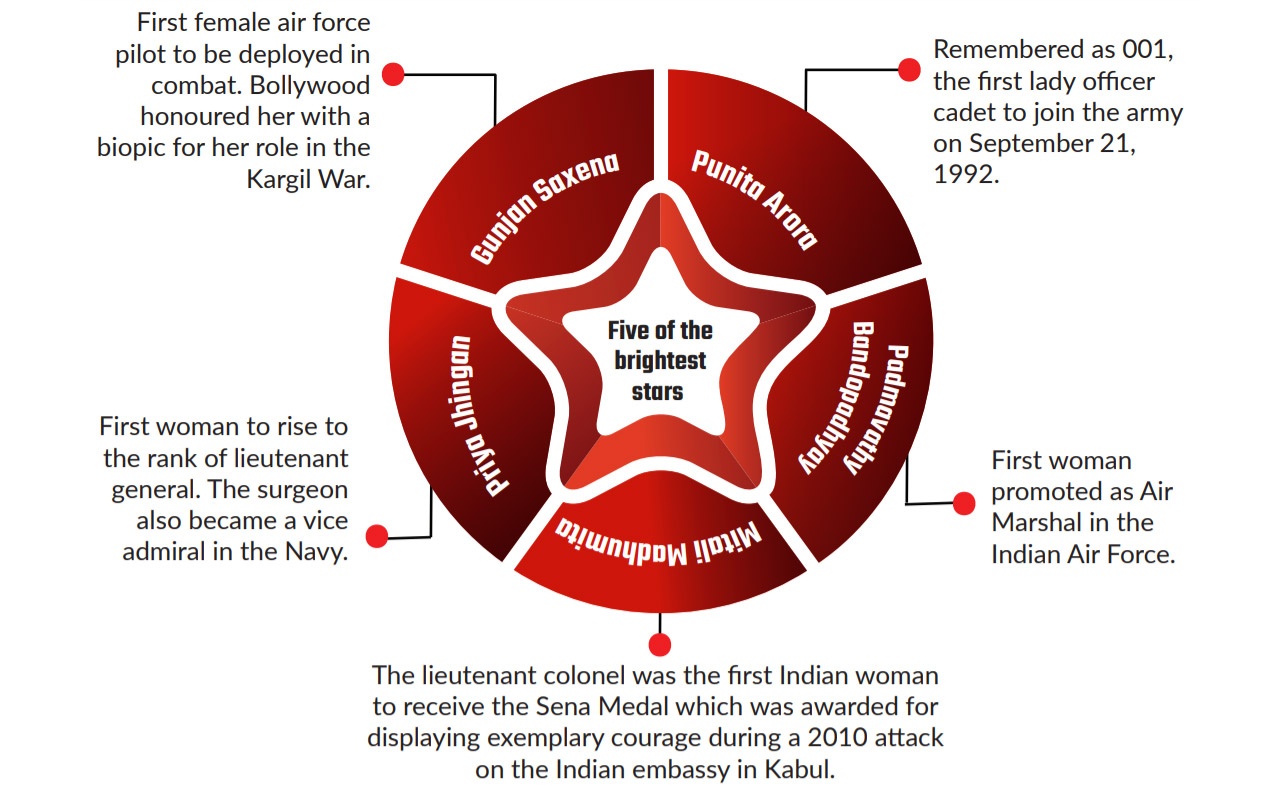 The latest court order ensuring women get the opportunity to appear for the NDA examination has drawn all-round applause in India, where at present top positions in the Army, Navy and Air Force are occupied by male officers trained at the 7,015-acre NDA. The newly-created post of the Chief of Defence Staff is held by General Bipin Rawat, a man.
Praise for ruling
Retired Air Vice Marshal Kapil Kak from the Centre for Air Power Studies think-tank called it the need of the hour in the 21st century and said there should be no fear that permanent commission for women would jeopardise efficiency or operations.
"We have to give ourselves some time but I don't see any problem of orders of women commanders not being followed," said the prominent military analyst of the Delhi-based Centre who also dubbed the Supreme Court ruling a "giant leap for gender equality".
Data presented in the Rajya Sabha in 2018 showed there was one female officer in the armed forces for every 16 male officers, with the ratio in the Army being one to 26, reflecting the scourge of sexism in the institution. The imbalance gets heavier – one woman to 178 men in the army – if medical personnel are brought into the equation.
Kak also allayed fears that greater representation of female NDA graduates with brighter service prospects would pose a threat to their male counterparts. "Permanent commission to women will not come at the cost of men," he said in an interview and added that India had taken great strides in terms of gender fair-play in the course of just 30 years.
"It is a great achievement in such a short time… we are moving in the right direction," Kak said, pointing to the gradual opening of opportunities for women in the male-dominated military.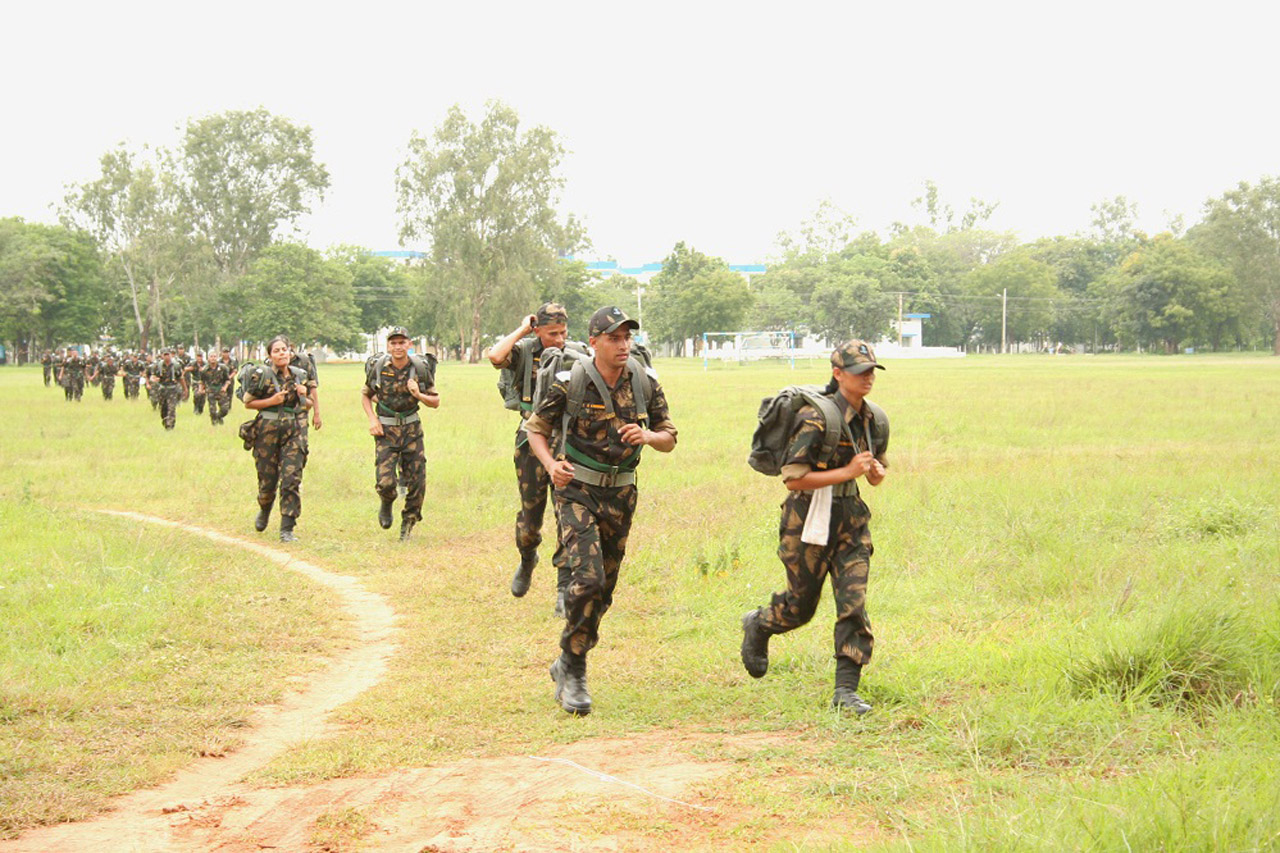 Lieutenant General Madhuri Kanitkar from the Army Medical Corps also welcomed the ruling. "It creates a level playing field for women to join on a par with the men… It would also help in good gender sensitisation," she said in recent comments. A paediatrician, Kanitkar was commissioned in 1982 and is the third female three-star general in India's military, the world's fourth largest.
The NDA, the world's first tri-service school, selects cadets aged between 16.5 and 19 years from schools and colleges and the Supreme Court observed the November exam "may not give the best results but we are looking at the future". A permanent commission will accord women officers the same opportunities, including service tenure, prospects of quicker promotions and full retirement benefits, as their male counterparts.
The defence ministry last year had even argued that soldiers from a rustic background may find it difficult to take direct orders from superior female officers.
In India, regulars are retired at 54 years of age or 34 years of service or four years of tenure, whichever is earlier. Women graduating after 49 weeks from the Chennai-based Officers' Training Academy can serve as officers for 14 years in non-combat branches of the Army except its Medical Corps.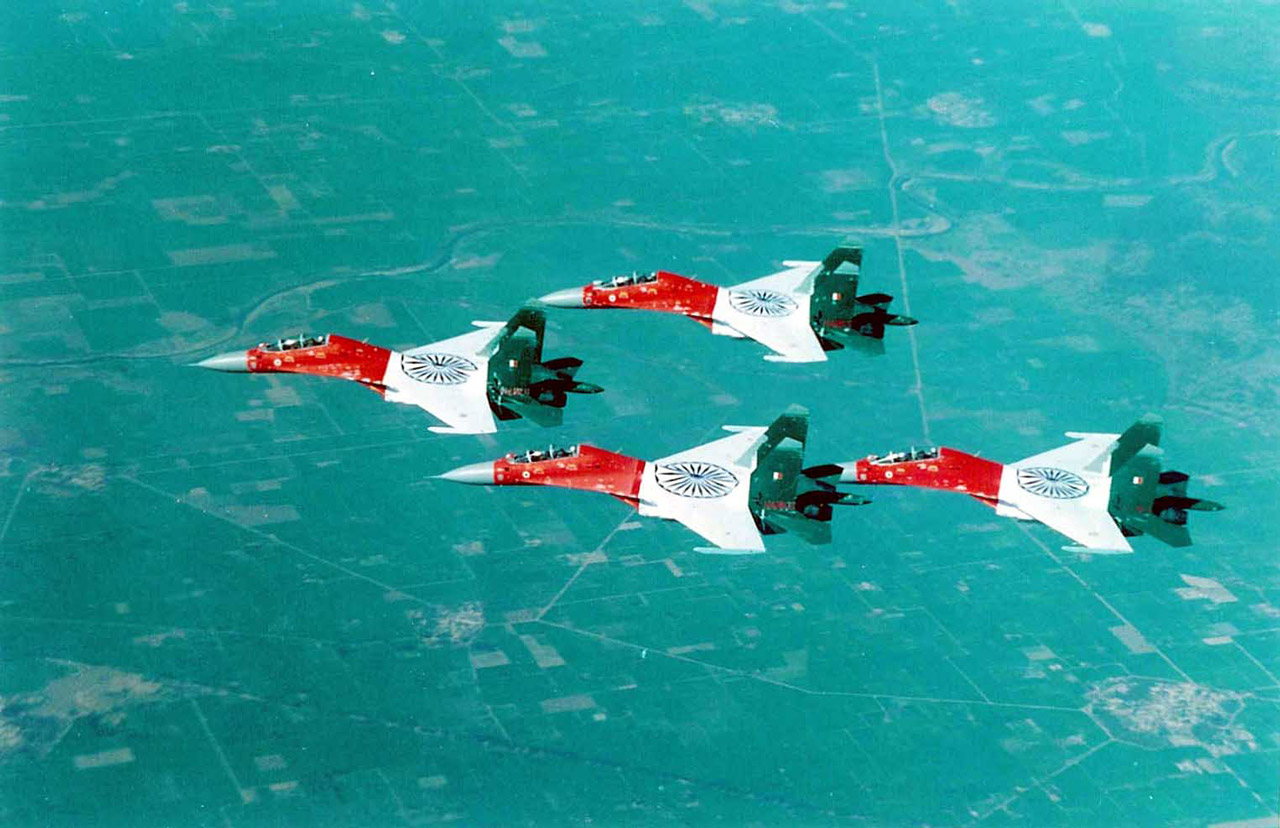 There are no other options for female aspirants to enter the services and critics say the system has so far denied them the prospect of rising rapidly in rank and that they are forced to retire in midlife with paltry benefits. Analysts say the discrimination, steeped in patriarchy, has resulted in women opting for routine desk jobs rather than seeking a career in the military.
Shanti Tigga: First female 'tough guy' of the Indian military
Hailing from West Bengal, Shanti Tigga became India's first enlisted woman jawan in 2011 after she calmly outperformed men in endurance tests.
The mother of two signed up for the 969 Railway Engineer Regiment of the Territorial Army and was recruited at the age of 35. Tigga humbled men with five seconds to spare in a 1.5-km sprint and also aced drills and firing exercises as a markswoman to top her class.
Married at the age of 17, Tigga led a quiet life as a housewife until 2005 when her husband died and she chose to enlist after a stint in the railways as a signalling points-woman.
Her life of valour came to an end on May 13, 2013 when she was found hanging in a hospital toilet. A week earlier, Tigga had been abducted, blindfolded and tied to a post near railway tracks.
Tigga is remembered fondly in the 969 Railway Engineer Regiment.
"It is a global phenomenon but India cannot lag behind in the 21st century," remarked Air Vice Marshal Kak. Military pundits had been calling for a level playing field, arguing physical logistics cannot be put forth as insurmountable hurdles as female cadets are already there at the Army, Navy and Air Force academies.
"There are always more vacancies in the Army's artillery, infantry or armoured corps than, say, in the education, legal or medical wings of the services and hence women are left holding the raw end of the stick," a former NDA instructor said.
"Right now, the first hurdle has been crossed and there will be equal opportunities for women to compete with men," he said, pointing out that even among the Western members of NATO, only Romania has had a female army chief.
Others say women should get a chance in the military's "fighting arms". "Women have come out with flying colours and it is rubbish to deny them a chance to prove their mettle as NDA officers first and then as full-time commanders in the field," remarked an infantry officer on condition of anonymity.
"Maybe the generals don't like the scent of perfume," the officer joked. "Give them the blessed opportunity, I say," he added.
On October 1, the top court in yet another step asked the Army to explain why 72 SSC-enlisted women officers were denied permanent service. A two-judge bench then restrained the authorities from retiring them from service.
"It is the mindset which we need to change," said a retired officer amid an ongoing scandal in an air force facility in Coimbatore where a 28-year-old who alleged rape by a fellow officer also stated she was pressured to withdraw her complaint by superiors until a general court martial was ordered to try the accused.
In 2007, this writer, sailing on board the USS Kitty Hawk during multi-nation war games, saw female officers commanding critical operations on the American supercarrier, now decommissioned.
Analysts say the discrimination, steeped in patriarchy, has resulted in women opting for routine desk jobs rather than seeking a career in the military.
"It is just not us, look at other ships from Australia or Japan… women officers have equal status and are part of a well-settled chain of command which is not gender-centric," a flight supervisor had commented then during the Malabar exercises in the Andaman Sea.
One can only imagine her reaction in today's context in Taliban-run Afghanistan – the same country where in the 1980s, female nursing staff were expected to handle military stretchers as well as assault rifles in rugged battle theatres.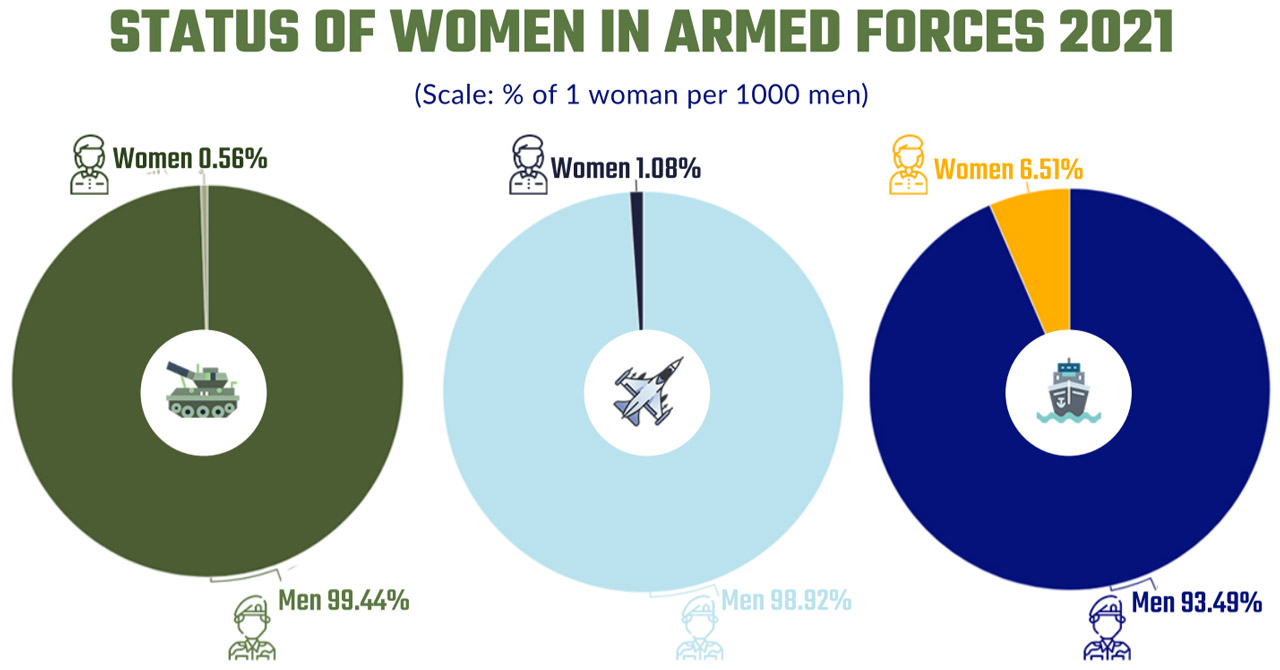 The big debate
But some officers say women enlisting at that tender age were likely to face more obstacles than shown in Gunjan Saxena, the Bollywood biopic of a female helicopter pilot.
"Women should join in a reasonable, comparable manner and they should not be denied permanent commission but then don't say they will do this and not that. This should be the attitude which unfortunately we do not have," said retired Indian Air Force Wing Commander Praful Bakshi.
Bakshi, a former defence ministry spokesman, also red-flagged what he saw as a social problem surfacing once girls straight out of schools walk into the NDA.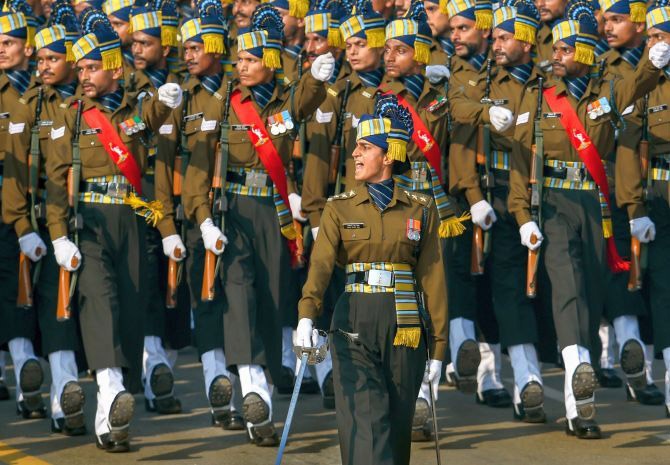 "They will be 17 and 18 when they will be there and at that age when you put girls and boys together that is going to be a problem. In NDA, women may get single cabins but then there will be so much mixing and so there could be mayhem," the IAF pilot who is also a flight safety expert, predicted.
A medical report of the US Air Force says only 20 percent of women pilots could perform manually without hydraulic controls in an aircraft.
"Also, you post them in a squadron. Age: 25 to 28 and all of them have periods and during periods when you fly your efficiency is affected … and when they are pregnant you have to give them pregnancy leave and then post-pregnancy leave… You will never be able to put them into combat at that age," Bakshi argued and warned that inducting women into fighter units would deplete squadron strength.