More than 50 visually impaired students in various age groups from Andhra Pradesh, Delhi, Rajasthan, Haryana and Punjab took part in the first-ever Hindi and English Speed Typing Competition using assistive technology that was organised by Tatsat Foundation and Saksham School, Noida on September 8 to mark the World Literacy Day.
In the first-of-its-kind of competition, the trust was providing the visually impaired students exposure to competition, skill development and adoption of assistive learning technologies.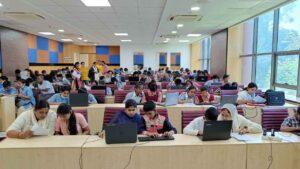 The students, depending on their age groups, were given worksheets, which they had to transcribe with the help of readers. They were judged on the speed, accuracy, and formatting of their transcripts.
"Saksham has been organising this kind of competition parodically, but this is the first time that a speed typing competition has been organised. Earlier, visually impaired people could only read or write in Braille, which restricted their reach to only those people who knew Braille. But with computers, what visually impaired people write can be read by everyone. That's a big step forward," said Dipendra Manocha, Founder of the Saksham Trust.
For the competition, the students were divided into three age groups—sub-junior (grade 3-5), junior (grade 6-8) and senior (9-12)—who participated in seven categories of Hindi and English Speed typing and one category in English Orbit speed and accuracy typing.
The winners in each category were given cash prizes of ₹7,000, ₹5,000, and ₹3,000 respectively besides medals and certificates. All participants in the competition were given participation certificates.
"It's important to expose the children to new assistive technologies to equip them better for integration with the mainstream and instill a sense of competition in a healthy environment. This was the first of its kind of competition in India and we plan to conduct similar exercises in different parts of the country," said Sumi Gupta, Founder & Director, Tatsat Foundation.
The event was supported by GD Goenka School, which provided volunteers drawn from the staff and students.
Winners:
| | | | | |
| --- | --- | --- | --- | --- |
| S. No | Winners | No. of Medals | Category | School Name |
| 1 | Hitesh Dagar | 2 | Sub-Junior | DAV Public School |
| 2 | Vatshal | 1 | Sub-Junior | Sunrise Ville school |
| 3 | Yusuf Zaman | 2 | Sub-Junior | Vibgyor High School |
| 4 | Hari Om | 2 | Junior | Salwan Public School |
| 5 | Madhubanti Rohit | 1 | Junior | Nethra Vidyalaya |
| 6 | Anmol Narula | 2 | Junior | Tulsi Public School |
| 7 | Ashvin Rajesh | 1 | Senior | Mount Carmel School |
| 8 | Pranam Srivastava | 2 | Senior | Millennium School |
| 9 | Naman Khetrpal | 1 | Senior | Pathway World School |
| 10 | Aman Kumar | 1 | Sub-Junior | Tagore International School |
| 11 | Rahul Kumar | 1 | Junior | Dharam Public School |
| 12 | Tejasvi Raj | 1 | Junior | D.P.S.R.K.Puram |
| 13 | Rohit Saini | 1 | Senior | Rajasthan Netraheen Kalyan Sangh |
| 14 | Pallavi Adhikari | 1 | Senior | Salwan Public School |
| 15 | Akash | 1 | Junior | Cambridge School |
| 16 | Pari Kumari | 1 | Junior | Salwan Public School |