Even as India marks 75 years of independence with Azadi Ka Amrit Mahotsav, the Minister of Social Justice and Empowerment, Virendra Kumar, informed Parliament on July 18 that 347 people died during hazardous cleaning of sewers and septic tanks in the past five years. In a sad irony, last year, while launching Azadi Ka Amrit Mahotsav, Prime Minister Narendra Modi dedicated it to the India people.
For sanitation workers, it seems, that liberation from one of the most demeaning and dangerous jobs is still beyond reach despite the Prohibition of Employment as Manual Scavengers and their Rehabilitation Act, 2013 (MS Act, 2013), which disbanded manual cleaning of sewers and septic tanks almost a decade ago. According to data of state-wise deaths of sanitation workers since 2017 tabled in Parliament, the highest number of deaths took place in Uttar Pradesh (51) followed by Tamil Nadu (48), Delhi (42), Haryana (38), Maharashtra(34) and Gujarat (28).
But activists, who have been fighting for the rights of sanitation workers, claim that the government data is inaccurate and does not capture the real toll. For example, for 2022, the government data shows only four such deaths in UP, but news reports from April and May indicate that six sanitation workers died in Noida alone. Similarly, in March alone, 14 sanitation workers died in four states.
Though Delhi has recorded just two deaths in 2022, news reports from March of four such deaths are available in the public domain when contractual private employees working for Mahanagar Telephone Nigam Ltd and ane-rickshaw driver died in Rohini after they were trapped in a sewer. The e-rickshaw driver lost his life in trying to save sanitation workers who had become unconscious while cleaning the sewer lines. The Noida deaths were a result of sanitation workers performing the hazardous task without any safety gear.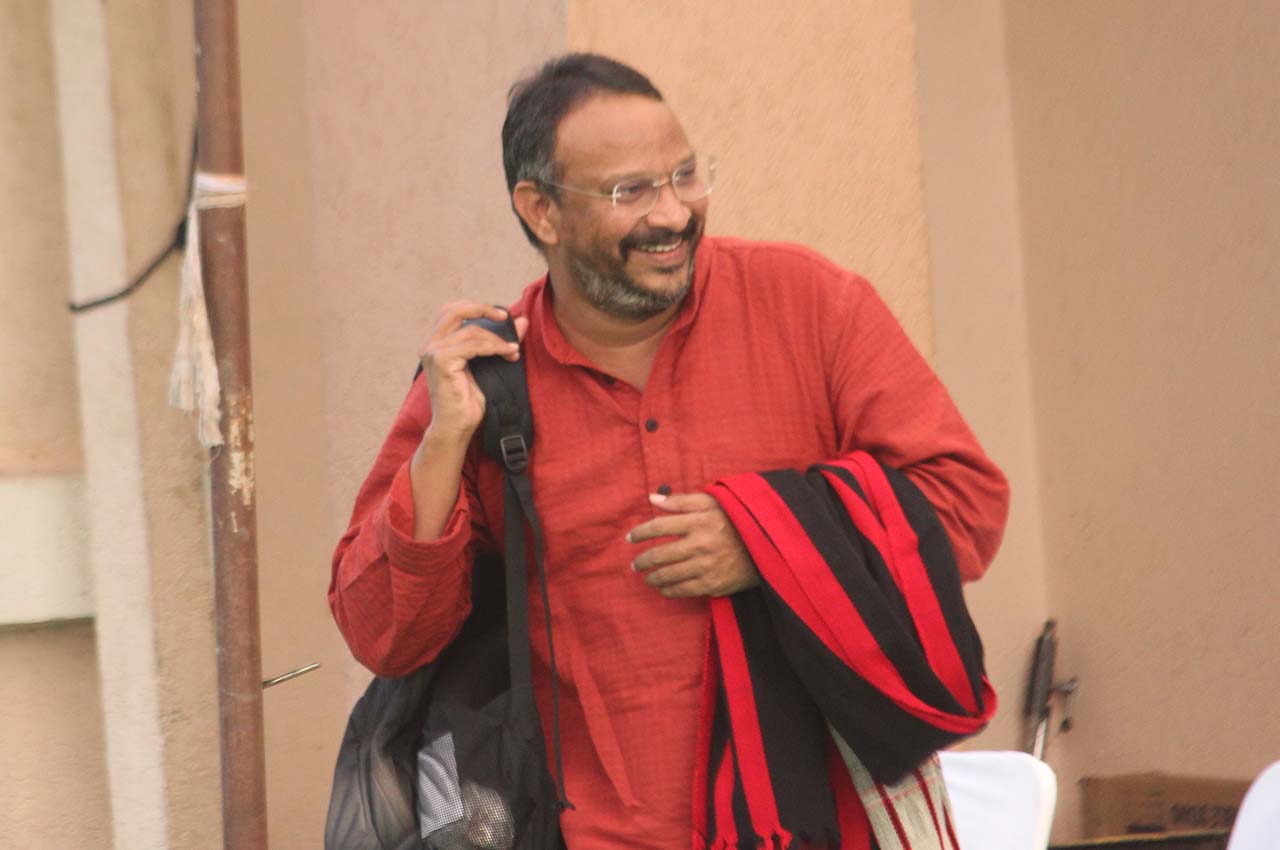 According to data collected by the SafaiKaramchariAndolan (SKA)—a non-governmental organisation of sanitation workers—which spearheads the movement against manual scavenging and hazardous sanitation work, more than 409 people have died in the past five years. "What is the use of making a law if you don't want to implement it? You have to come up with justice for the Indian citizens who were killed between 2016 and 2020," says Bezwada Wilson, SKA's national convener and 2016 Ramon Magsaysay Award winner. "They (politicians) have no answers. You come to Parliament and say that in the past five years the number (of deaths) has come down. This is nonsense. They should stop giving such technical answers in Parliament because they are misleading. Can any minister or prime minister give any solution?" Wilson believes the apathy towards sanitation workers stems from the mindset of the people that all citizens are not equal. "They don't have any official data about how many people are actively involved in manual scavenging."
Two basic facts deserve reiteration: First, manual scavenging has been banned in India since 1993, and, second, the Prohibition of Employment as Manual Scavengers and their Rehabilitation Act, 2013, includes sewer and septic tank cleaning as manual scavenging.This means that manual cleaning of sewers and septic tanks is illegal and contractors still employing people to do this hazardous job are in blatant violation of the law.
Definition of manual scavengers
The law passed in 2013 provides a pretty clear definition of the term "manual scavenger." It defines a manual scavenger as "a person engaged or employed, at the commencement of this Act or at any time thereafter, by an individual or a local authority or an agency or a contractor, for manually cleaning, carrying, disposing of, or otherwise handling in any manner, human excreta in an insanitary latrine or an open drain or pit into which the human excreta from the insanitary latrines is disposed of, or on a railway track or in such other spaces or premises, as the Central Government or a State Government may notify before the excreta fully decomposes in such manner as may be prescribed, and the expression 'manual scavenging' shall be construed accordingly".
It further clarifies that "manual scavenging as defined under Section 2 (1) (g) of the 'Prohibition of Employment as Manual Scavengers and their Rehabilitation Act, 2013 (MS Act, 2013)' is prohibited with effect from 6.12.2013. No person or agency can engage or employ any person for manual scavenging from the above date. Any person or agency who engages any person for manual scavenging in violation of the provisions of the MS Act, 2013 is punishable under Section 8 of the above Act with imprisonment up to two years or a fine up to Rs. One Lakh or both".
Despite no legal ambiguity regarding the ban on manual cleaning of sewers and septic tanks, the practice continues across India, without any consequences for the violation of law. Though the social justice minister said in Parliament that "the government takes serious cognisance of the deaths occurring due to hazardous cleaning of sewers and septic tanks and non-observance of safety precautions", legal actions against violators have been few and far between.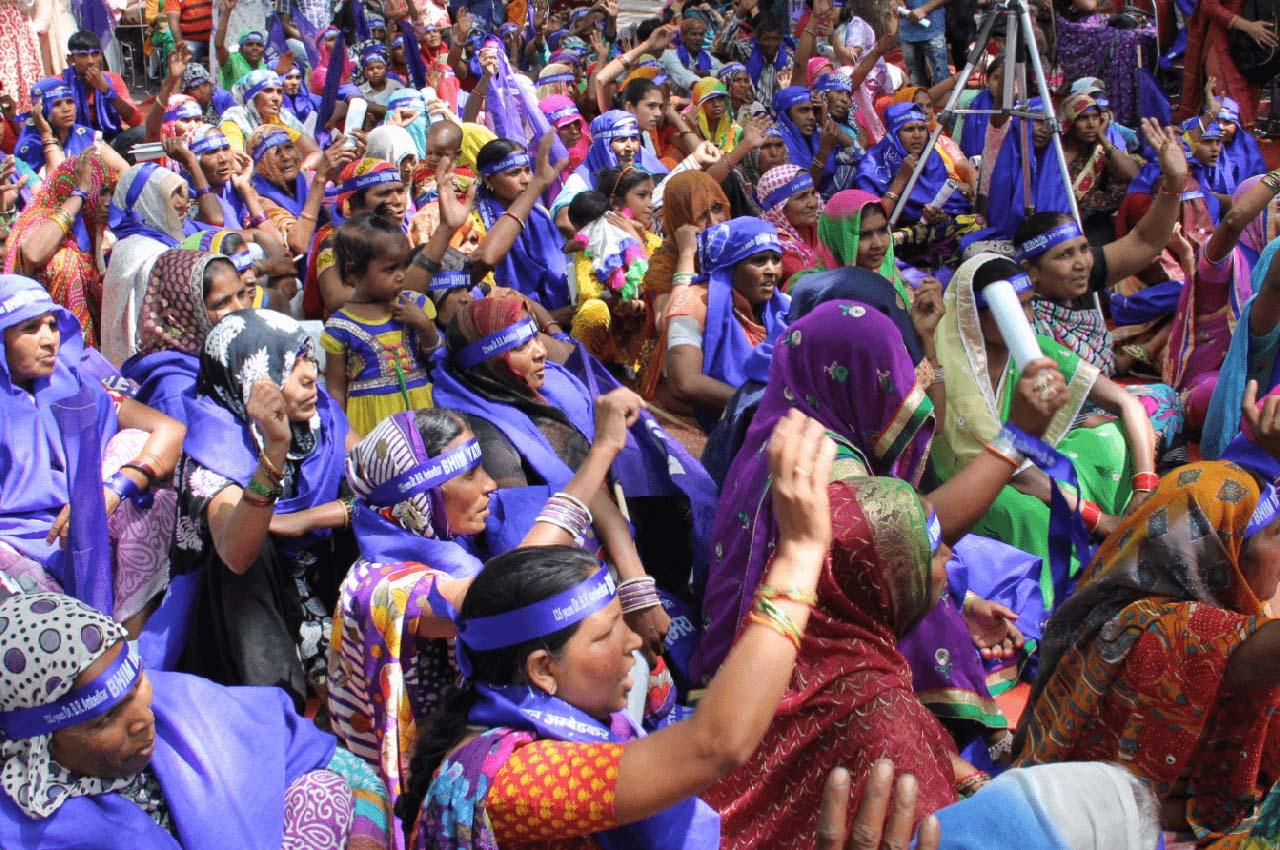 Even the Supreme Court weighed in against this inhuman practice. Ruling in the 2014 SafaiKaramchariAndolanv Union of India &Ors case, the bench comprising Justices P.Sathasivam, Ranjan Gogoi and N.V. Ramana said,"The practice of untouchability in general, and manual scavenging, in particular, was deprecated in no uncertain terms by Dr. B.R. Ambedkar, Chairman of the Drafting Committee of the Constitution of India. Accordingly, in Chapter III of the Constitution, Article 17 abolished untouchability, which states as follows: 'Abolition of Untouchability: "Untouchability" is abolished and its practice in any form is forbidden. The enforcement of any disability arising out of 'Untouchability' shall be an offence punishable in accordance with law'."
However, across the country, deaths of sanitation workers continue to stack up due to inhalation of poisonous gases such as hydrogen sulphide, ammonia, methane, carbon monoxide and sulphur dioxide that are produced inside a sewer from the decomposition of organic matter."Everybody says it is illegal to clean sewers manually," says Dashrath, 16, son of one of the sanitation workers who died in Delhi in March. "But nobody told my father that it is not the right way to clean a sewer, not even the contractor. He and one of his friends got into the choked sewer for just 300 rupees. Their bodies were found in the evening. No one should die the way my father lost his life."
Rooted in casteism
Activists fighting for the rights of the sanitation workers feel that the practice of manual scavenging is deeply rooted in India's caste system.It condemns a person born in a particular caste to do the same work as defined by the archaic and regressive norms of the caste hierarchy. Since sanitation workers hail from the Dalit and most backward communities, they tend to become invisible a few days after each death is reported in the media. Activists say that unless there is a change in the general mindset, such deaths will keep recurring.
"There is a lot of apathy and negligence towards the Safaikaramchari (sanitation worker) community. That is why they have been excluded from the public narrative for so long," says Deepthi Sukumar, board member, SKA."There is a deep-rooted caste bias in our society against sanitation workers. They always get mistreated and are considered undesirables. Since they are perceived to be living on the fringes of a caste-based society, very little attention has been paid towards their upliftment, including investment in technology. It's clear that society doesn't value the lives of people from this community."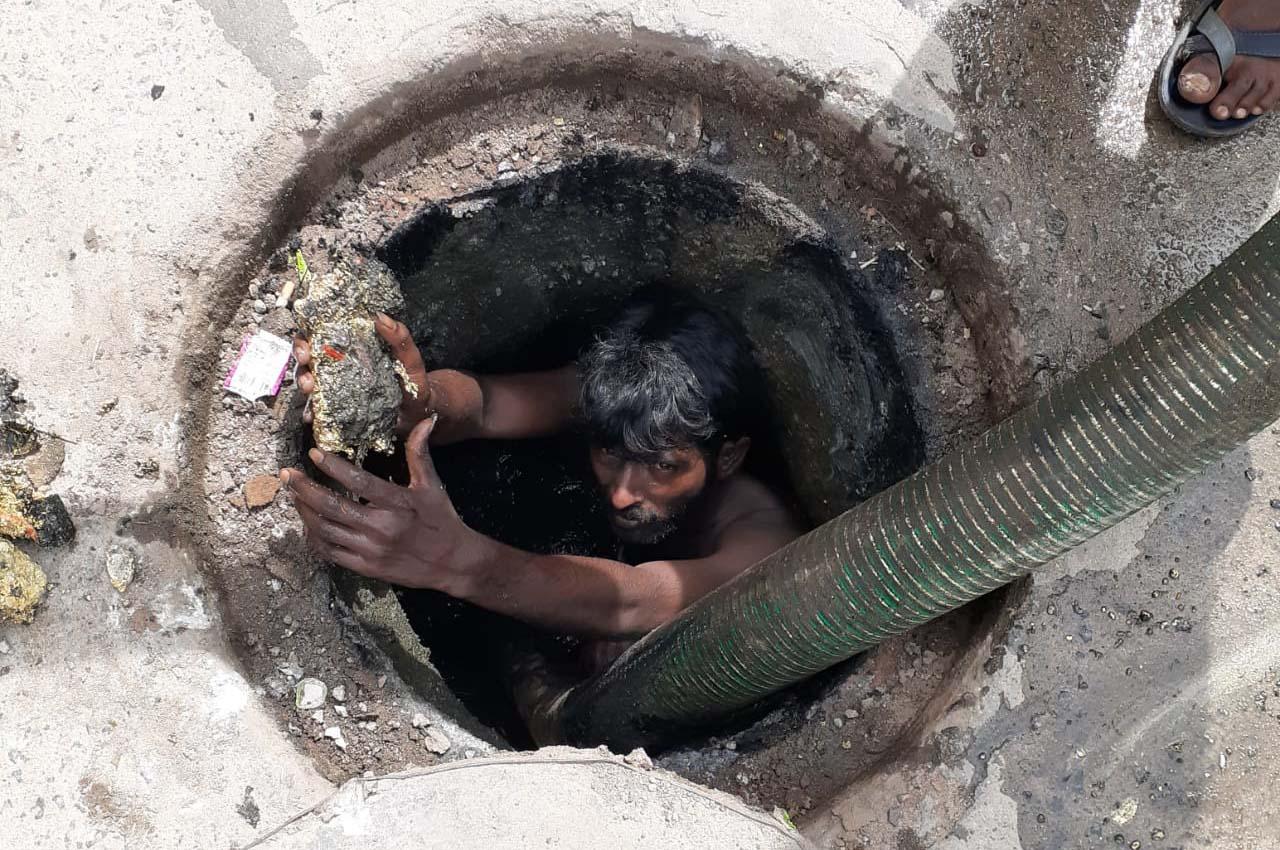 According to data collected by SKA, which spearheads the movement against manual scavenging, more than 409 people have died in the past five years
Interestingly, this April the Minister of State for Social Justice and Empowerment, Ramdas Athawale, told Parliament in response to a question from Jagdambika Pal that "no such casualties have been reported due to manual scavenging. However, there is a report of 321 persons dying due to hazardous cleaning of sewers and septic tanks in the last five years". He added that one-time cash assistance of ₹40,000 to every identified manual scavenger is given besides providing skill development training to such persons for two years with a stipend of ₹3,000 per month during the training period. Until April, the minister said, the one-time cash assistance had been provided to 58,098 people, while skill development training had been provided to 18,226 people and capital subsidy for self-employment had been provided to 1,575 people.
But this raises a question. If manual scavenging was banned with the promulgation of the Employment of Manual Scavengers and Construction of Dry Latrines (Prohibition) Act, 1993, then whose skill is the government developing? The definition of manual scavengers from the older act was incorporated in the act that was passed in 2013. It is clear from Athawale's answer in Parliament that the ban on manual scavenging and on employing sanitation workers for manually cleaning sewers and septic tanks has been flouted by both the Central and various state governments. This is something that activists like Wilson and others are working against.
Activists fighting for the rights of the sanitation workers feel that the practice of manual scavenging is deeply rooted in India's caste system
Some activists, however, see a sliver of light at the end of the tunnel. "A lot of change has come about. They have become assertive and are now aware of their rights," Bhasha Singh, author of Unseen: The Truth about India's Manual Scavengers, told Tatsat Chronicle. "The government and civil society can no longer ignore the deaths of sanitation workers. The community has undertaken a lot of mobilisation through organisations like the SKA to bring in this change. What has not changed is government apathy and criminal silence." According to parliamentary data, a total of 971 sanitation workers have died since 1993, when the ban on manual scavenging came into effect.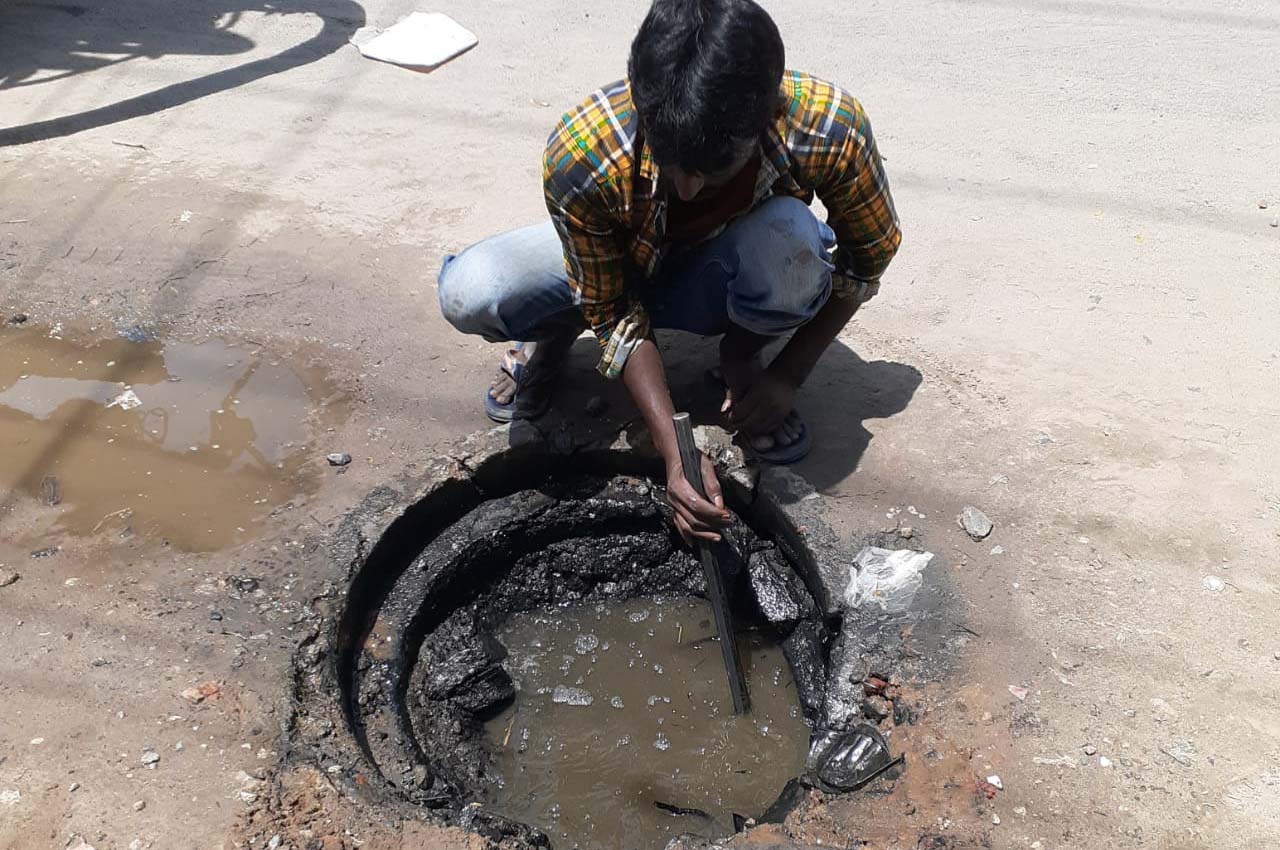 Start-up technology no hope
There are regular news reports about the development of new technology that promises the eradication of manual scavenging. Yet, sanitation workers are dying in the national capital. In June, IIT-Madras and Solinas Integrity—a start-up incubated by the institute—announced that it had developed a sewer cleaning robot called HomoSEP in coordination with SKA. According to IIT-Madras' website, the robot developed by the institute's researchers to eliminate manual scavenging in India is all set for field deployment.
In a press release, Prof. Prabhu Rajagopal of the Centre for Non-Destructive Evaluation, who led the team of inventors, said, "The septic tank is a poisonous environment, filled with semi-solid and semi-fluid human faecal material that makes up about two-thirds of the tank. Hundreds of deaths are reported every year across India due to manual scavenging in septic tanks, despite bans and prohibitory orders. The HomoSEP project is unique for the way it has brought together the key stakeholders, including the university (our team), NGO, industry CSR and start-up to develop a solution to an urgent and pressing social problem. The problem is large and complex, and we hope that our effort serves as an inspiration for others to join in the push."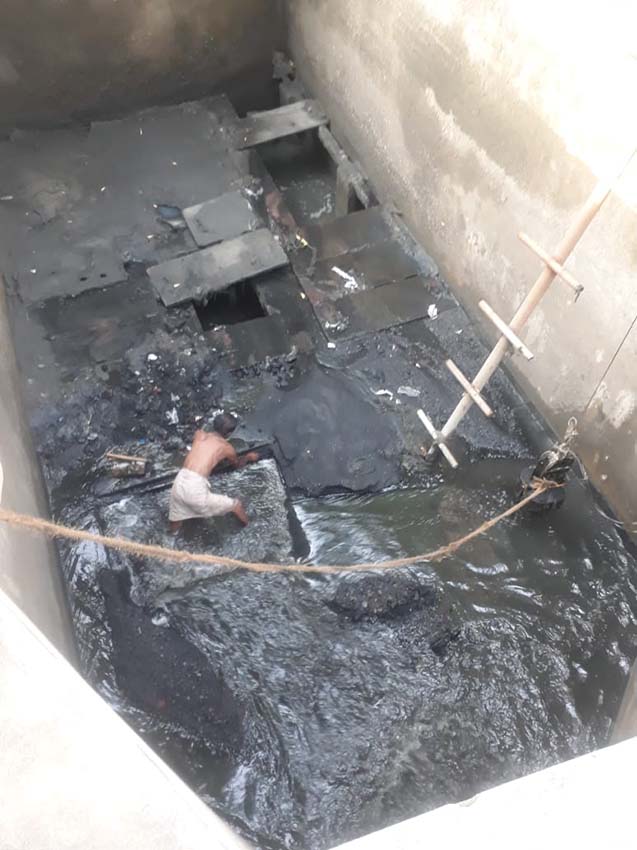 But Wilson is not convinced that such developments will provide a solution and has questions about many such inventions proffering a promise to eradicate manual scavenging that regularly hit the headlines."There is no mass technology developed in India. Whatever we have has been developed primarily by the IITs or in some form by start-ups," he points out. "That is not a solution. Here, we are talking about the problem of about 140 crore people, this is not a problem of one or two houses. The quantum of the problem is massive. For example, if there is one machine in Kerala, one machine in Karnataka or elsewhere, what's the point? Is this the way the government is going to tackle the problem? You wanted to launch a rocket, ISRO (Indian Space Research Organisation) started working on it in the 1960s and success came only after 1980. After 20 years, and after so many failures, we became successful. When you want to launch a new technology or adopt a developing technology, it takes a lot of time."
There are also doubts about the efficacy of such sewer cleaning technologies in the Indian context. A lot of other solid waste like plastic and polythene, among other things, findsits way into sewers due to the lack of a proper solid waste management system in the country. These items tend to choke the lines and are tough to dislodge. Any technology that is developed needs to keep these factors in consideration.
Given that a majority of India's population still lives in villages, the magnitude of this demeaning practice is difficult to estimate. "In rural areas, if somebody dies while cleaning a septic tank in a village, it's not even going to be reported," says Sukumar. "These are invisible deaths. In semi-urban areas, there are septic tanks, and I can't understand why the new toilets that have been built in rural areas are called dry toilets. However, it's the urban centres that need urgent attention because most of the cities have underground sewage systems, which need regular cleaning." She also suggests that deaths of sanitation workers be recorded in the National Crime Records Bureau database since they are due to what is an illegal practice.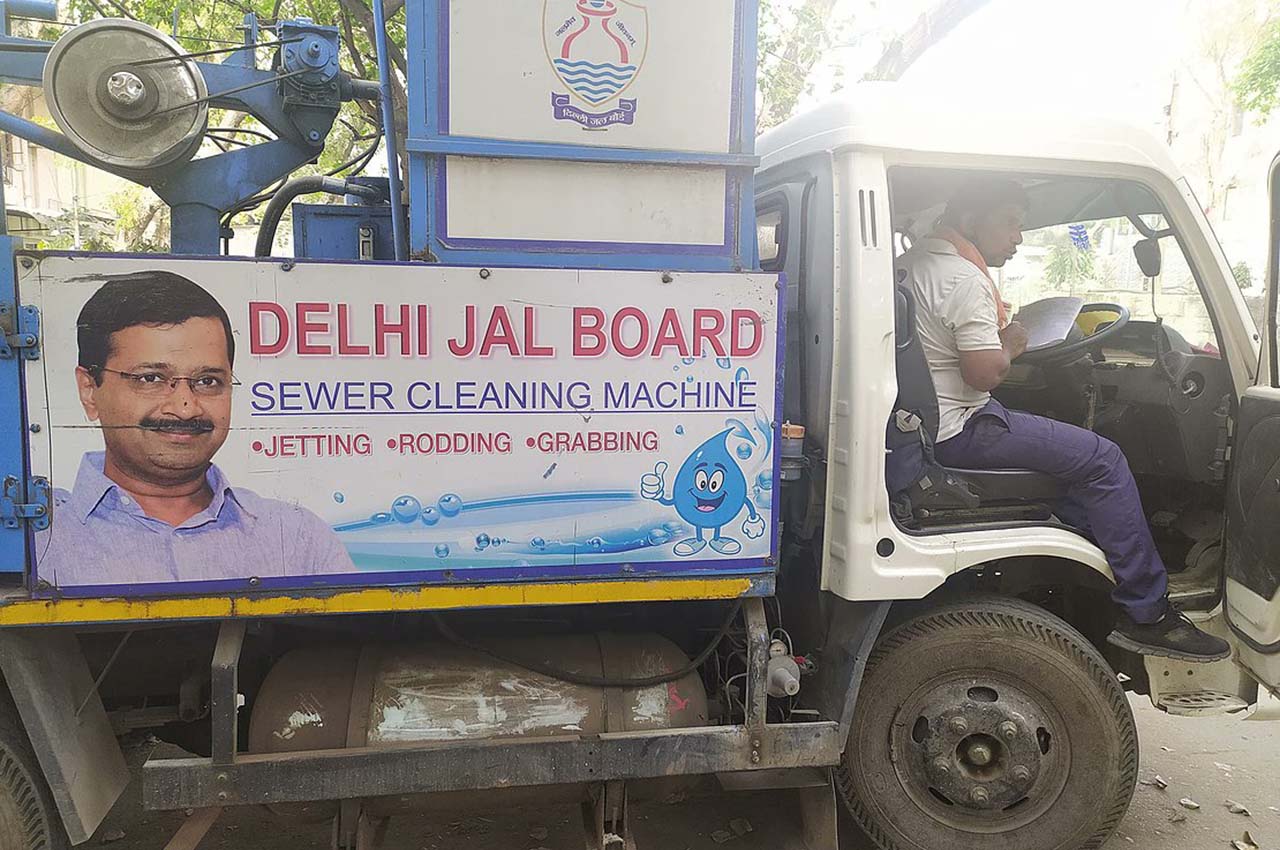 There are also doubts about the efficacy of sewer cleaning technologies in the Indian context. A lot of other solid waste finds its way into sewers
While the Swachh Bharat programme has been hailed as a great success by the government, it appears that the plight of sanitation workers remains unaddressed despite all the laws and judgments against manual scavenging. "As an Indian citizen, I feel ashamed. Caste is dominating the minds of the people in power. Otherwise, it is a simple task, we have everything, but not the heart to save the lives of fellow citizens, just because they are Dalits," says Singh. "It is a farce. People are dying in the national capital also, as modern technology is only showcased in advertisements. The ground reality is different, and the political will is missing."